La Rambla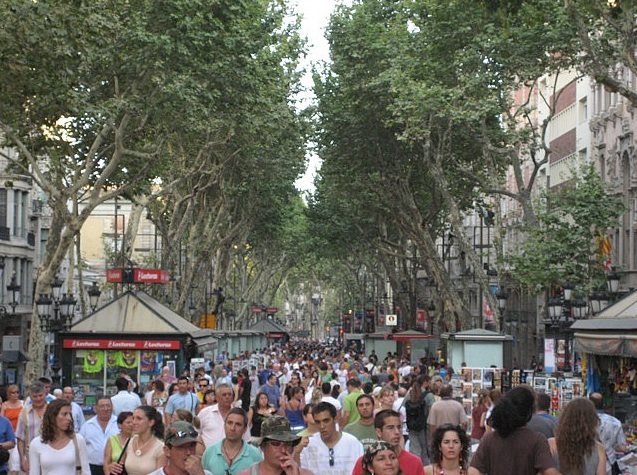 From the air, it looks like a broad green river running through the city. The poet Garcia Lorca called it 'the most beautiful street in the world'. It's busy day and night, the place where most visitors to Barcelona head first. The Ramblas is so popular it may be the only street in the world to have its own verb—to take a stroll here, as many Barcelonans do every day, is to ramblejar.
In fact, it once was a river. 'Ramla' means a torrent in Arabic. It ran past the walls of the medieval city and was used a moat—also a common sewer, which gained it the nickname Cagallel, the 'turd-taker'. In the dry season it became a thoroughfare, where butchers had their stalls, employers came in search of day-labourers and the gallows were kept for public executions.
The Cagallel was filled in in the 14th century. At the end of the 18th, trees were planted and benches installed. Cast-iron streetlights, kiosks and flower stalls were added in the early 19th century; the flower girls, who got their jobs for their looks, became one of the famous sights of the city. The gracious and shading plane trees came in 1859.
Text © Dana Facaros & Michael Pauls
Images by Christian Van Der Henst S., Jackson Pauls, Manuel Martín