Camp Nou Experience
Fan candy galore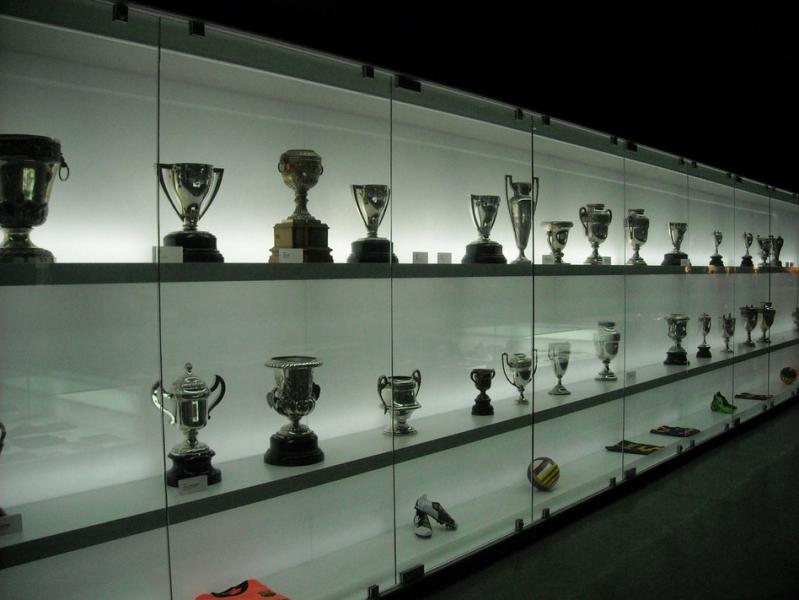 FC Barcelona, the city's beloved, wealthy and successful football club, is magnificently headquartered in Camp Nou, Europe's largest stadium, south of the Diagonal and the Zona Universitaria. You've seen their blue and burgundy jerseys, caps and banners for sale in every souvenir stand in the city and, if you love football, getting a ticket for one of its 99,354 seats to see Mr. Messi play tiki-taka was probably one of your first concerns.
Even if you haven't bagged a ticket, you can enjoy the Camp Nou Experience, the newly revamped museum, an audio-guided tour of the stadium, and a multimedia centre. It's not only the most popular in the city, but the third most popular in Spain.
About a ton of silver sparkles in the museum cases while touch screens tell the club's history; you can learn about Barça's 'special values' and examine an impressive database of statistics, gawk at the special case displaying the six fabled trophies of 2009 and catch the latest temporary exhibition.
Messi's countless fans have a new Leo Messi area to revel in: it's the first time an active player has been given his own section, with all of his awards, his four Ballon's D'Or and two Golden Boots. There are interactive tables with all of his goals to relive.
The present stadium was built in 1957, the money raised by loyal fans paying their fees up to five years in advance – a first act of architectural self-affirmation of Catalan will after the Civil War. The self guided tour includes the grandstand, the 'mixed zone' (where players meet the press) and the changing room; you can walk through the tunnel that the players use to the pitch, and see the stadium from ground level, have pics taken arm in arm with your favourite player, thanks to digital technology, and visit the press boxes.
The new Multimedia Centre brings out all the sights and sounds of the team—playing Barça's anthem (in 30 languages, no less) showing the team's best goals and key plays on a massive 115 ft screen, and 200 historic moments, while other interactive screens cover the club's other sports.
Avinguda de Aristides Maillo (entrance via the FCB Botiga Megastore)
Avoid the queues by purchasing tickets for the Camp Nou Experience in advance online, via the website. Tickets are valid until the end of June.
Hours 10am-7.30pm. The Museum is always open, but the complete experience is only available on days when there are no matches (check calendar on the website). For matches in the Champions League, the experience is also closed the day before the match.
Adm €23, €17 ages 6-13 and over 70. Under 6 free.
metro: Maria Cristina, Palau Reial, Zona Universitària, Les Corts or Collblanc i Badal.
+34 93 496 36 00