Museo della Tappezzeria
Textiles in an 18th-Century Villa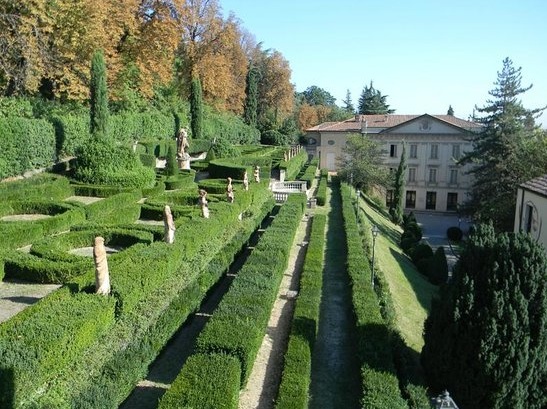 The 18th-century Neoclassical Villa Spada, surrounded by elegant box hedged Italian gardens cascading down the slope, has seen its share of history. Owned in the early 19th century by the tenor Antonio Poggi, it became Austrian headquarters in Bologna in 1849 and its tower was used as the prison of Garibaldi's fighting priest, Ugo Bassi and his fellow fighter Count Livraghi, who were shot by a firing squad near the villa wall, recognizable in the anonymous painting of the scene.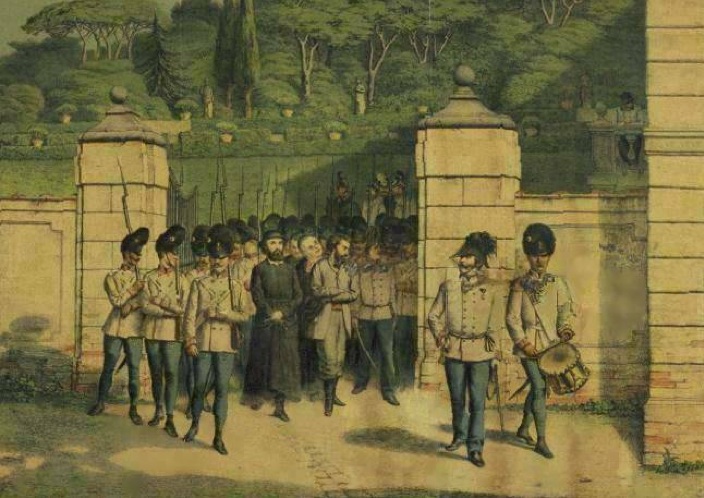 On the south end of the garden is the city's memorial (1975) to the 128 resistance fighters from the province of Bologna who were similarly executed during the Second World War.
The garden's terracotta statues seem to be showing off their clothes, appropriately enough because the villa, purchased by the city of Bologna in the 1960s, has housed a unique collection of textiles since the 1990s. The Museo Storico Didattico della Tappezzeria is the work of Vittorio Zironi, who came up with the idea of a textile museum while being interned in a prisoner of war camp in Germany and hearing that a similar museum in Berlin had been bombed in the war.
As soon as he returned to Bologna he set off on his mission, accumulating a huge collection of woven artefacts from Europe, the Middle East and Asia, as well as looms and other the machinery demonstrating how they have been woven since the Middle Ages, displayed in the villa's pretty frescoed walls.
Above the second upper entrance to the gardens on via di Casaglia is the curvone the curve in the road with a magnificent 360-degree view over Bologna's centro storico.
Via di Casaglia 3 (3km walk west from the centre, or take bus 20 or the shuttle, Navetta D)
Hours Temporarily closed at the time of writing, so ring ahead. Sat & Sun 9am-1pm, 4-7pm. Closed Aug.
Adm €5, €3 ages 15-18 and over 60; under 15 free
+39 051 6145512