Madonna di San Luca
Madonna di San Luca
The Church on the Hill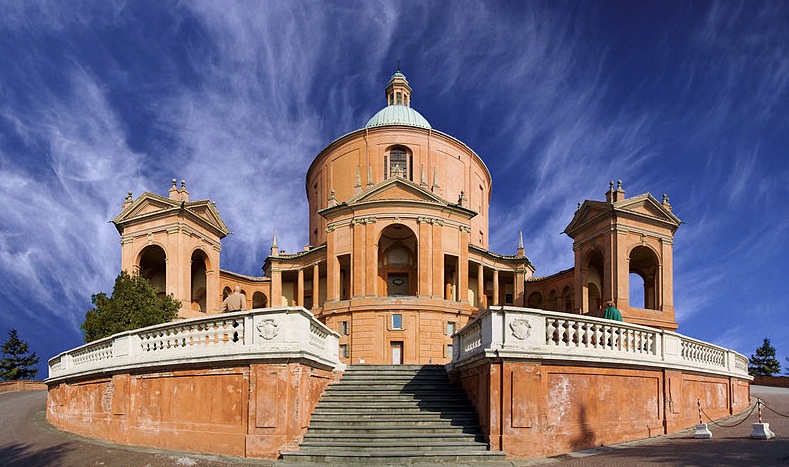 The Santuario della Madonna di San Luca on Colle di Guardia (and if you're walking you'll be glad enough when you finally reach it) was built to house a 'Black Madonna', an icon attributed to St Luke. Another local legend has it that the icon came from the Hagia Sophia in Constantinople. A pious Greek named Theocles had a vision there, in which the Virgin commanded him to remove the icon to the 'sentinel mountain'. He wandered for years with it, before coming to Rome, where he was taken in by a kindly Bolognese senator who told him about the Colle della Guardia back home. There doesn't seem to be any truth in this one either.
Nobody knows for sure when the icon turned up (it is dated to the 12th century), though this sanctuary seems to have begun as a pilgrim hostel, perhaps in the 11th century, before becoming a pilgrimage destination in its own right. The sanctuary church was designed by Carlo Francesco Dotti in 1723. In this age, when the impulse of Baroque architecture was running out of steam, architects often tried to find inspiration by going back to the origins; this church, with its elliptical shape preceded by a curving portico, draws heavily on Bernini's revolutionary churches in Rome, built a century earlier.
Still, Dotti had a big problem – making a monument that would make a fitting end to the long pilgrimage walk, and at the same time be a conspicuous landmark, visible from all over Bologna – and his retro creation does the job admirably. The interior is richly decorated; besides the miraculous icon it contains three paintings by Guido Reni and one by Guercino. From outside, there are fantastic views of the Apennines.
Practical Info
Via di San Luca. You can climb up under the 666 arches of the amazing Portico di San Luca, starting at Porta Saragozza, or else just take the No. 58 bus from Villa Spada or Arco di Meloncello, both along Via Saragozza west of the Porta Saragozza.
Hours Mon–Sat 7–12.30 and 2.30–7, Sun 7–7; winter till 5
Adm Free