Musei Civici (Modena)
Art, Archaeology, and the Kitchen Sink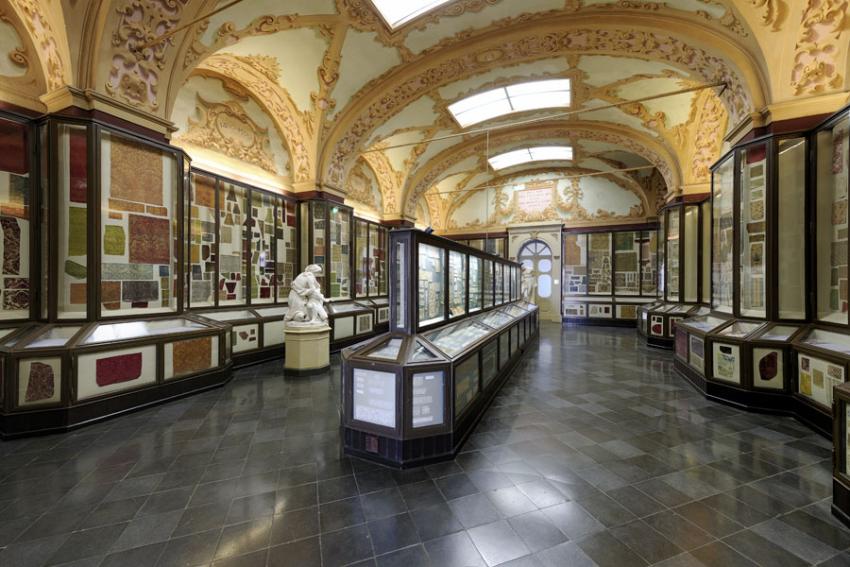 The Musei Civici are housed in the Palazzo dei Musei, along with the Galleria Estense, two other museums and the Biblioteca Estense.
This museum is one of those charming old Italian institutions where nothing seems to have changed since the time of King Umberto. It comes in two parts. First is the Museo Civico d'Arte, with a collection of medieval paintings from the city's churches, including work by Tommaso da Modena and some by his followers; Antonio Begarelli's Madonna della Piazza and a lovely room of antique musical instruments – psalteries, cembalos, on up to Neapolitan mandolins, all looking rather sad to be locked up in museum cases.
Next comes a room of scientific instruments and early machines, and a huge collection of old Modenese crafts and industrial products – a fascinating and peculiar atticful of everything under the sun, from lace to greeting cards; the display of bridle bits takes up an entire wall.
The other part is the Museo Archaeologico-Etnologico, low in excitement though rich in potsherds. The best parts are the exhibits on the fascinating Terramare people and the Etruscans, the 'Venus of Savignano', a fertility goddess some 20,000 years old, and the finds from a Lombard tomb. The ethnological section is a mixed bag from all over the world, from pre-Columbian figurines from Central America to Samurai costumes from Japan.
hours Mon-Sat 8.30am-7.30pm; Sun and hols 9.30am-7.30pm.
+39 059 203 3125