Palazzo Pepoli Campogrande
Palazzo Pepoli Campogrande
Herculean Ceilings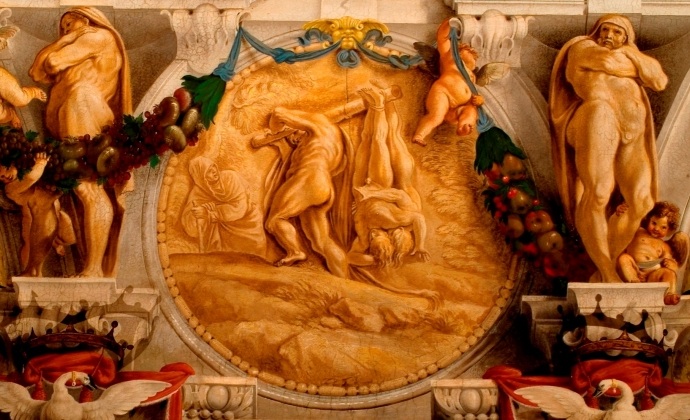 It was called 'Campogrande' from the big field Taddeo Pepoli, boss of Bologna in 1337–47, had to clear to build it. Taddeo's descendants in the 1600s still had enough resources to give the palace its present shape.
Inside they commissioned some lavish frescoes, including two incredible ceilings with the same theme, the Triumph of Hercules: a very florid and busy one by Domenico Canuti (1665), and a more restrained version by Giuseppe Maria Crespi (1691), with Allegories of the Seasons in the four corners. A third ceiling has Alexander Cutting the Gordian Knot, by Donato Creti (1708).
Today the palazzo belongs to the Pinacoteca Nazionale, and houses archives, photos, and the Collezione Zambeccari, a collection of paintings donated to the city by the Marchese Zambeccari in the 18th century.
The Pepoli must have been attached to the neighbourhood. Their previous palace, the Palazzo Pepoli Vecchio (now the History Museum of Bologna), and the one before that, the 13th-century Casa Gadda Pepoli, are right across the street.
Note: The scene from Canuti's Hercules pictured above seems to be crying out for an explanation, so here it is. The Cercopes were two brothers, little ape-like imps who were always causing trouble. One day they made the mistake of robbing a sleeping traveller, who turned out to be Hercules. Hercules, of course, caught them. He gave them a good beating, tied them by their feet to a pole and carried them off over his shoulder. Now, the Cercopes' mother was something of a seer, and she had always warned them to beware of 'Old Black Bottom'. Hercules, as we know, never wore anything under his lion's skin, and as the Cercopes enjoyed their upside-down view of his big black bum (either exceptionally tanned, or exceptionally hairy; the mythographers differ), they finally realized what mother had been on about and started laughing uncontrollably. When they let Hercules in on the joke he could only laugh too, and he let them go.
Practical Info
Via Castiglione 8
Hours Tues-Thurs 3-7pm, Fri-Sun 10am-7pm, closed Mon.
Adm Free
+39 051 229858