Pinacoteca Nazionale
Pinacoteca Nazionale
The Good, the Great and the Bland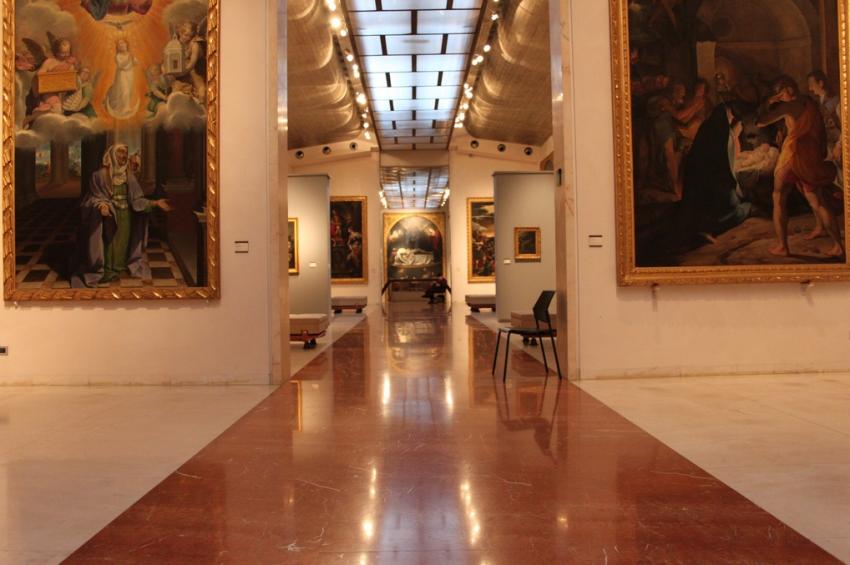 Bologna's most important art is stored among the university buildings in the Pinacoteca Nazionale, a collection begun by Cardinal Lambertini and expanded after he became Pope Benedict XIV. Most of the first works came from demolished city churches, and plenty more came in when Napoleon suppressed so many of the city's monasteries. Napoleon, as he was wont to do, also stole the best works and moved them to Paris, but, unlike many places, after 1815 Bologna was fortunate enough to get them back.
Pre-Renaissance
The collections were moved to this old Jesuit monastery in 1816. The itinerary begins with the 14th-century Bolognese artists, of which that singular painter Vitale da Bologna emerges as the star with his intense St George and the Dragon and Life of St Anthony Abbot (you'll notice that unlike most of his contemporaries, including Giotto, Vitale knew what a camel looked like). Brilliant colours, a hint of depth, and delight in nature are the rule with Vitale, excepting the grey and sombre Cristo in Pietà made in the plague year of 1348.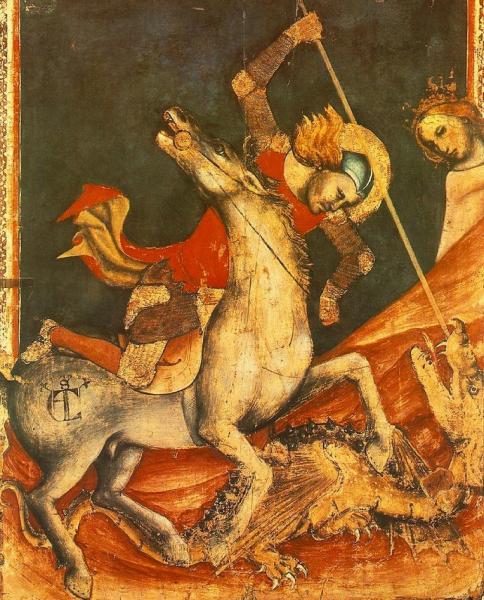 Some of Vitale's approach is reflected in his Bolognese contemporaries: the colourful Morte della Vergine by Pseudo Jacopino and a glowing Madonna col Bambino of Simone de'Crocefissi. Giovanni da Modena contributes a Crocefissione adorato da San Francesco, and another artist with a distinctive style and a very fine brush, Jacopo di Paolo, a Crucifixion with saints.
The next room is devoted to 'foreign' painters, and pride of place is taken by the only work of Giotto in Bologna, a Polyptych with the Madonna and saints. Other foreigners, many of whom had come to Bologna to work on San Petronio, include Lorenzo Monaco, Giovanni Martorelli of Brescia (known for intense, worried-looking saints, as in the Life of St Anthony Abbot here), and the Sienese Andrea di Bartolo; from Spoleto, Rinaldo di Ranuccio has a wonderfully stylized Franciscan-style painted crucifix.
Next come three rooms of detached frescoes from Bologna churches. Again Vitale da Bologna stands out, with several works including the Madonna del Ricamo, depicting an old legend where Mary sews the shirt that would be gambled for by the soldiers at the Crucifixion; he also painted many of the detached frescoes from Santa Maria (or Apollonia) di Mezzaratta, with help from Jacopo di Paolo (the two scenes from the story of Moses). Pseudo Jacopino's cinematic Battle of Clavijo depicts the climactic fight that saved the last corner of Christian Spain after the 8th century Arab conquest, when St James (Santiago) came down from heaven to help defeat the Moors.
Other exceptional works come from Simone de'Crocefissi, Jacopo di Paolo and Francesco da Rimini, including a Miracolo di San Francesco.
Renaissance Art
The Renaissance section contains more 'foreigners', with fine works of Antonio and Bartolomeo Vivarini and Cima da Conegliano of Venice; it shows the considerable influence of artists from Venice and Tuscany on the local artists present, notably in the big-canvas virtuosity of Ferrara's Lorenzo Costa and Bologna's Il Francia (or Francesco Francia), the most popular painters in Bologna in the days of the Bentivoglio.
There are two small fragments from that elusive Ferrarese master Ercole de'Roberti, including a tearful Magdalene, an early work of El Greco, the Last Supper, and a Visitation by Tintoretto.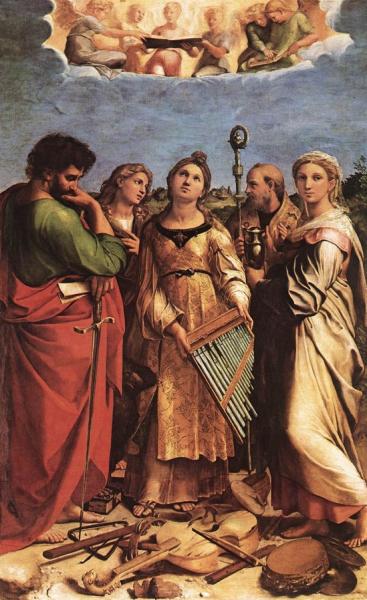 The most famous painting in the entire museum is Raphael's Ecstasy of St Cecilia, a late and unusual work (1517) which the artist sent from Rome to hang in the church of San Giovanni in Monte: it shows the patron saint of music, holding a set of organ pipes and raptly listening to the angels sing, with a chamber orchestra's worth of instruments, unstrung and broken at her feet, symbolic of Cecilia's lack of interest in earthly things. Around her stand contemplative saints: Paul leaning on a sword, John the Evangelist with his eagle, St Augustine and Mary Madgelene.
Mannerism and Baroque
From Emilia-Romagna's Mannerist decades come works by Parmigianino, Pellegrino Tibaldi, Nicolò dell'Abate (scenes from Orlando Furioso), and some dependably tepid ones by Il Garofolo, sharing space with Perugino, Giulio Romano and Titian's Jesus Crucified with the Good Thief.
The Carracci, who initiated Bologna's move into the forefront of Italian art, get a room to themselves; among the many works present are Ludovico's Caduta di San Paolo and Madonna dei Bargellini, Annibale's Madonna di San Ludovico, and Agostino's Comunione di San Gerolamo, one of the most celebrated and influential works of its day.
From here it's a short and logical step to the strangely perfect little world of Guido Reni, Bologna's favourite son, who earns the most lavish chamber in the entire museum. Most of his best works are in Rome, but the selection here at least gives a hint of why Reni was once considered one of the greatest painters of all time; even in his own day, his classical precision of line and total command of colour and composition were thought a refreshing advance on the fevered exaggeration of the Mannerists. Highlights include the hypnotic Triumph of Samson, the Massacre of the Innocents, Madonna dei Mendicanti and the Madonna della Pietà; and there is a portrait of the artist himself, by Simone Cantarini.
In the rooms that follow, true gems are mixed with a good helping of dross, a fair representation of the age itself (for the dross, see here). Among the artists to appear are Guercino (including his Investiture of St William, a painting so admired it was specially selected by Napoleon's men to take to France); Mastaletta (Rest on the Flight into Egypt), Domenichino, Francesco Albani, Alessandro Tiarini, Marcantonio Franceschini, Leonello Spada, Donato Creti (the precociously neoclassical Sigismonda), Gaetano's Gandolfi's masterpiece, the huge Marriage of Cana (1775-80) and Giuseppe Maria Crespi (The Courtyard Scene).
Some of the larger paintings have been placed in the auditorium, the Aula Didattica at the end of the itinerary.
Practical Info
Via Belle Arti 56
Hours
Tues–Sun 9–7; adm €4
+39 051 420 9411