University of Bologna
University of Bologna
Bologna the Learned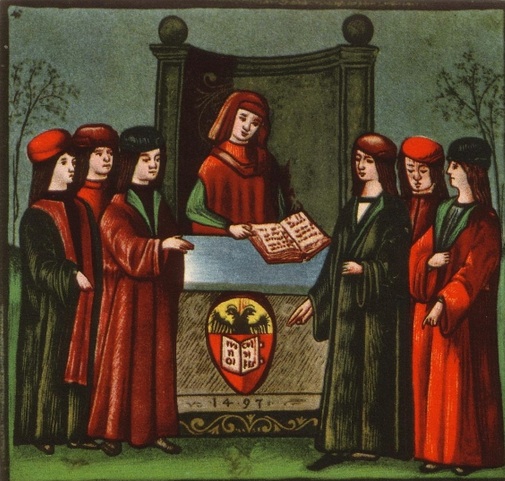 Bononia Culta was an epithet first given the city by the Roman poet Martial. Nobody has the faintest idea what the Roman-era city did to deserve it, but starting in the 11th century, Bologna did its best to live up to it.
The Bolognesi like to claim their university is the oldest in the world, and give it a founding date of 1088, but the matter isn't so clear. All the medieval universities had very informal beginnings, as loose communities of teachers and students; some grew out of cathedral schools that go back to the 800s, and their growth into institutions was gradual and poorly documented.
What is certain, though, is that – along with the establishment at Paris – Bologna's was the most important centre of learning in medieval Europe. Unlike Paris', this one was at first run by the students, not the teachers, and they organized into guilds to maintain their rights.
Originally there were four of these, called 'universities' (the original use of the word), although soon these merged into two, the Cismontane for Italians and the Transmontane for all foreigners; later on, each nation had its own guild and building. From the earliest times the student guilds were able to get fixed prices set for their lodgings and books and, since they provided the professors' income directly through fees, they could dispose of incompetent or merely unpopular ones by the simple means of a boycott. The Emperors were usually only too glad to give them a hand, and a decree of 1158 from Frederick Barbarossa even granted them exemption from the legal jurisdiction of the comune. Eventually the professors formed guilds of their own; membership in one was the origin of the university degree.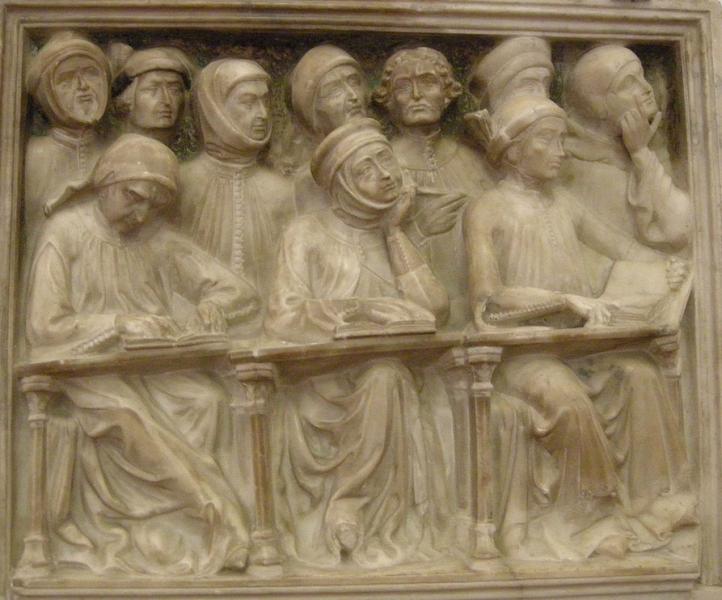 Almost from the beginning, Bologna was known best of all for its studies of the written law. This grew out of the subject of rhetoric, the basis of the education for lawyers and politicians in classical times. In the 1200s the University established faculties of philosophy and medicine. In the latter it was replacing Salerno, where the university was already in decline, and it soon became renowned for it, as the first place in Europe to revive the practice of human dissection.
Paris may have had the greater reputation for the liberal arts and theology, but besides medicine Bologna also gradually achieved distinction in the sciences, particularly astronomy. By this time Bologna had also become a mother of other universities, as groups of students broke away for various reasons to found new schools in Modena, Reggio, Vicenza and Padua. Bolognese masters were also instrumental in staffing the universities of Naples, Palencia, Salamanca and Montpellier, and one alumnus, Vacarius, founded the law school at Oxford in 1144.
The University Today
Today the university has campuses around Emilia-Romagna in Rimini, Ravenna, Forlì and Cesena, as well as Argentina. Parts of the university in Bologna are open to visitors, including its original building, the Archiginnasio and its museums in the Palazzo Poggi, the astronomy museum in the Torre della Specola
Practical Info