Zákynthos: Up the Southwest Coast
To the Famous Shipwreck Beach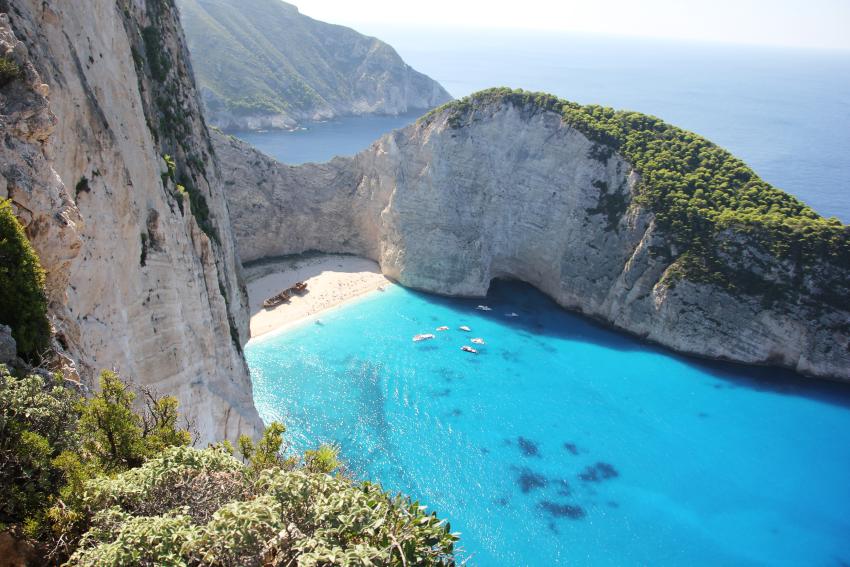 Unlike the low rolling hills and plain of the east, the west coast of Zákynthos plunges steeply into the sea, rearing up 1,000ft in places.
Taking the pretty road from Zákynthos Town, Macherádo is the last stop on the plain, where the white 14th-century church of Ag. Mávra, an earthquake survivor, has a very ornate interior, with a beautiful 3rd-century icon of the saint (who lived in Egypt) covered with ex-votos and scenes in silver of her life; the Venetian church bells are famous for their clear musical tones. The 16th-century church of the Ípapanti has a handsome campanile.
Macherádo is also famous for wine, including the Comoutos Estate, the oldest winery in Greece, run by the Comoutós family since 1638. The Comoutós were one of the most important families on the Ionian islands: one ancestor, Dimitrios, commanded the island's galley in the Battle of Lepanto in 1571. They made their fortune in raisins and currants, and were ennobled in the Venetian Libro d'Oro; today their estate is divided between olive groves, with 8000 trees and vines.
Text © Dana Facaros
Images by dronepicr, Heather Cowper, jaimilee.beale, Robert Wallace, Veniti