Knossos and Archanes
The Minoan Capital and summer palace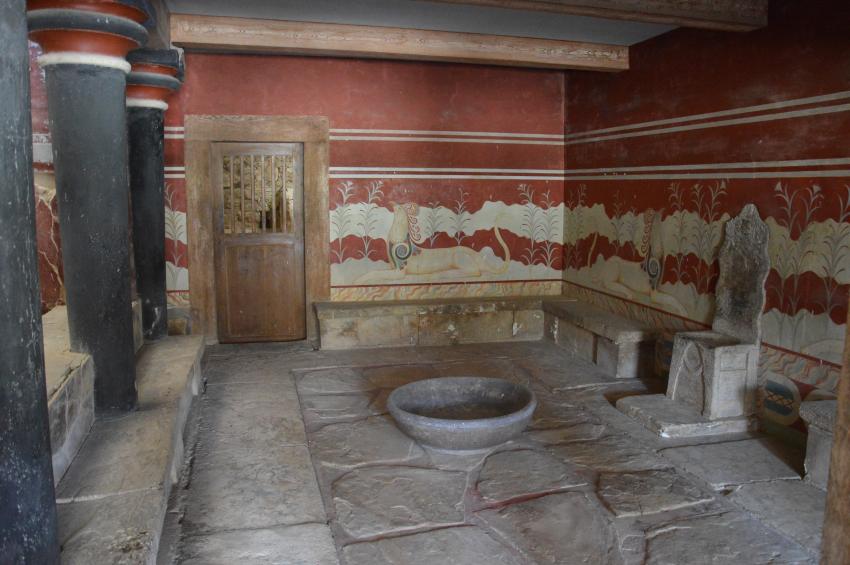 The weird dream image has come down through the ages: Knossós, the House of the Double Axe, the Labyrinth of Minos. The bull dances, mysteries and archetypes evoke a mythopoeic resonance that few places can equal.
Thanks to Arthur Evans' reconstructions, rising up against the hill-girded plain, Knossós is now the most visited archeological site in Greece after the Acropolis. Evans' reconstructions are now themselves historical monuments; the work you'll see on the site is reconstructions of reconstructions.
History
The first Neolithic houses on the hill by the river Kairatos date from the 7th millennium BC, or earlier; few Neolithic sites in Europe lie so deeply embedded in the earth. In the 3rd millennium BC, a Minoan Pre-Palace settlement was built over the houses, and c. 1950 BC the first palace on Crete was erected on top. After collapsing in an earthquake of 1700 BC, a new, grander palace, the Labyrinth, was built on its ruins.
Text © Dana Facaros
Images by Ancient Images, Annatsach, Cadogan Greek Islands, Carole Raddato, Christos Tsoumplekas, Deror_avi, Gregor Klar, Mmoyaq, Creative Commons License, Moonik, Schuppi, Stefan Bellini, Trine Juel, W. Stanley Moss, Zde