Heraklion to Ag. Nikolaos
Aquariums, Malia, Milatos Cave and Dreros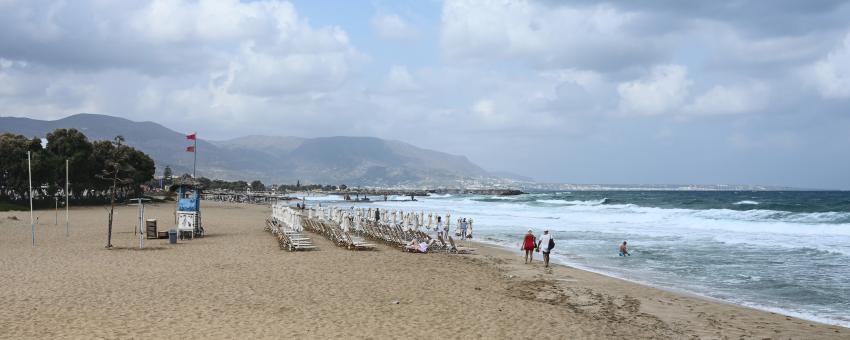 East of Heráklion and Amnisós, Europa, once raped on the island by Zeus, gets her revenge on Crete with endless concrete tourist sprawl. Yet there are a couple of reasons to put on the brakes if you're after more than booze, sex and footie on telly.
But what goes around comes around. The Dorians, pioneer cultural polluters who swamped these shores back in 1100 BC with heavy metal swords, were probably just as silly and tippled even worse. Yet the beaches are so big, and so close to the airport (you can be nursing a cocktail on the sands in about an hour of landing, although it won't be mch longer before the city has a new modern airport to the south), that both Chersónisos and Mália also host some of the island's biggest and fanciest resort complexes, as well as Crete's first golf course.
At Vathianó Kambó, by the Hotel Demetrato, there's a well-preserved Minoan villa, Nírou Cháni or the House of the High Priest, where a trove of 40 tripods and double axes was found. It has two paved courts with stone benches, perhaps used in ceremonies.
Text © Dana Facaros
Images by Bernard Gagnon, Cayambe, Niall McAuley, Olaf Tausch, Schuppi, Shadowgate, Simon L Kozhin/Кожин Семён Леонидович, Stegop