gran/grano
wheat or grain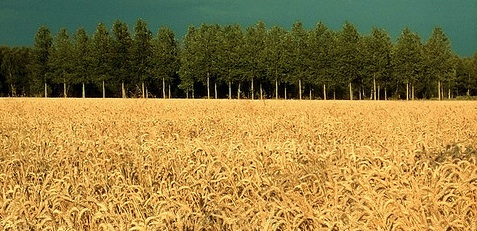 Although frumento is properly 'wheat', gran or grano (grain) is commonly used as well, and the Italians, naturally, are great connoisseurs; see also grano duro and farina. There is a movement in recent years to bring back historic varieties of wheat and spelt (farro). Grano saraceno is buckwheat; grano di caffé is a coffee bean.
Some wheat versions of grano you may see include:
Gran cotto (cooked wheat in a jar— used in the classic Neapolitan Easter pie, Pastiera)
grano al ragù: boiled grains of wheat with a sauce of salt pork, sausage and tomato sauce, topped with grated pecorino (Basilicata)
Grano del faraone: an ancient semolina wheat 'of the Pharaoh'
Grano dolce: another word for cuccia (Basilicata)
Grano duro Cappelli (durum wheat Cappelli) a sweet easy digestible wheat for pasta
Grano marzuolo: an ancient kind of drought-resistant wheat, used in make the traditional pane nero di Castelvetrano
Grano tenero Gentil Rosso (semolina Gentil Rosso) a 19th-century variety
Grano tenero Sieve (Sieve semolina): ancient variety used again for bread and sweets.
Grano tenero Verna (Verna wheat): used for baking
In late June, Faicchio in the province of Benevento (Campania) hosts a Festa del Grano, celebrating traditional ways of planting and harvesting wheat and making it into bread and pasta, with plenty of folklore, music and dancing.