vegetarians and food intolerances
and some important phrases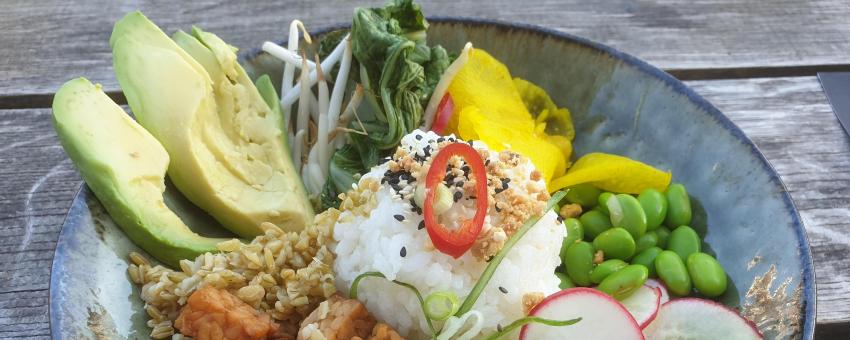 Vegeterians
Ten percent of all Italians are said to be vegetarian, and it's one of the easiest countries to find vegetarian-friendly things to eat in everyday restaurants. Centuries of rural poverty have given birth to numerous classic, meat-less dishes (Tuscany has some of the best-known with its numerous bean (fagioli) dishes, ribollita, carabaccia, pappa al pomodoro, and panzanella) pastas, soups, antipasti, bruschette, salads, risotti, and a hundred variations on pizza. The Happy Cow website has a list of 775 restaurants and food shops in Italy.
Lactose Intolerance
Because central and southern Italians use olive oil instead of butter and rarely use cream in their cooking, those who are lactose intolerant should have a fairly easy time of it. Many non-cheesy pasta dishes don't automatically come with grated cheese on top (although it never hurts to ask, to make sure), and you can also ask for a pizza marinara or any other kind senza formaggio. Many people find they can actually digest aged hard cheeses in Italy such as parmesan and pecorino, which have very little lactose—and none of the preservatives or additives that frequently feature in 'Italian' cheese sold abroad.
Celiacs and Gluten Free
Celiacs and those on a gluten-free diet are increasingly catered for in Italy: see here.
Nut Intolerances
Nut intolerances of course can be deadly, and this can be problematic in Italy, because the word for nuts, noci, is the same as walnut, and waiters and chefs can easily misunderstand, so it's important to be quite specific and write a list of all the nuts you are allergic to and show the waiter. Beware too that peanut oil (olio di arachidi) is popular for frying dishes.
On food labels, look for 'May contain traces of nuts': può contenere tracce di frutta secca a guscio.
See below for list of nuts and other common allergies.
Vegans
Vegans who eat no animal products at all will have the hardest time in Italy. See the Happy Cow list above for suggestions: googling vegan and the name of your destination will usually produce at least one restaurant. Otherwise there are often vegan antipasti and contorni, and dishes with tomato or other vegetable sauces made with pasta secca or pastasciutta (dried pasta) as fresh pasta contains eggs. Pizza marinara or/with vegetables, salads, some fruit gelato and granita are also good bets.
Phrases that might come in handy
As mentioned above, it never hurts to double check, even if you think you're ordering something safe:
È senza glutine? Is it gluten-free?
È senza carne? It's without meat?
È senza formaggio? It's without cheese?
È senza latte? It's without milk?È senza noci? It's without nuts?
È senza uova? It's without eggs?
sono allergico/a a ....: I'm allergic to ...
sono celiaco/a: I'm celiac
sono intollerante al lattosio: I'm lactose intolerant
sono vegetariano/a: I'm vegetarian
sono vegano/vegana: I'm a vegan
Non posso digerire …: I can't digest … (If you're faced with uncomprehending waiters who can't understand why you can't eat something, this works like a charm. Italians take digestion very very seriously. They even study it in school).
Food Allergies
If you are writing a note listing your allergies, add this for emphasis:
Non posso consumare nessuno di questi alimenti in qualunque forma, in quanto possono provocarmi uno shock anafilattico.
(I cannot eat any of this food in any form as it might provoke anaphylactic shock).
citrus fruit: agrumi
dairy products: latticini
eggs: uova
fish: pesce
legumes: legumi
milk: latte. cow's milk: latte di vacca
nuts: see below
shellfish: frutto di mare or molluschi dal guscio duro (take care when ordering dishes where the chef may have used bags of frozen seafood such as risotto alla pescatora or insalata di mare which they think don't contain shellfish, but do!)
soy: soia
strawberries: fragole
stoned fruits (plums, cherries etc): frutta con nócciolo
wheat: grano
yeast: lievito
Nuts:
almonds: mandorle
cashews: anacardi
chestnuts: castagne
hazelnuts: nocciole (these are very common in biscuits)
peanuts: arachidi
pinenuts: pinoli (very common in pesto and other dishes in Liguria)
pistachios: pistacchi
walnuts and many other nuts: see noci