riso/risotto
rice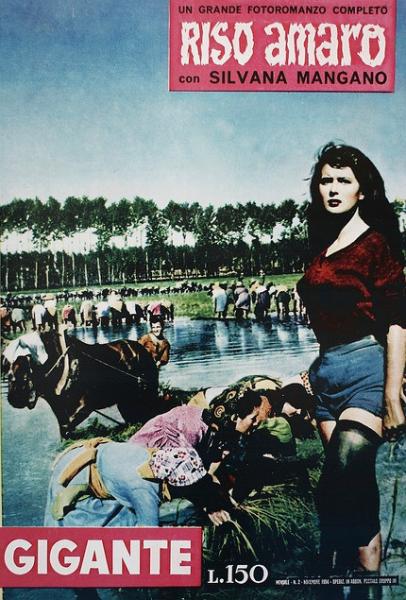 Rice was always known in Italy, but it only became an important crop in the 1400s when the Sforza dukes of Milan used it to reclaim swamplands in Lombardy, especially south of Lake Maggiore. The region still produces the lion's share of the Italian harvest and was the subject of a classic neorealist film of 1948 called Riso Amaro (Bitter Rice), which featured many of the workers—nearly all of whom were women.
Some rice is produced in the Veneto as well, notably the small-grained Vialone Nano riso di Grumolo delle Abbadesse, raised since the 16th century in a town between Vicenza and Padua, originally by Benedictine nuns. Today it's in the Ark of Taste. Riso selvaggio is wild rice (which is really a grass), and imported to Italy from Canada.
Italians use rice in soups, salads, casseroles (timballi), snacks like arancine and suppli, and in desserts, but in general rice is never a side dish, but a first course, a risotto, simmered in a skillet and usually made with short-grain arborio, which is perfect for it.
Lombardy's classic risotto Milanese is yellow with saffron and parmesan. In Venice, the traditional dish is rice and peas, risi e bisi. Mushrooms are a favourite (risotto ai funghi) and seafood (risotto marinara or risotto al pescatore).
Vegetables can star too, especially asparagus. Risotto alla sbirraglia has a whole chicken in it; they say it was first made for the cops (sbirri) in Genoa. In Brescia they make a similar riso alla pitocca. Many recipes call for sausage or salame; Mantova's risotto alla pilota, with sausage and butter, was a favourite of the rice workers themselves. Piacenza's speciality is bomba di riso, a dome of rice with stewed meat hidden inside (it's cooked first, then baked in a hemispherical pan and inverted); in Naples they make something similar called sartu.
Other recipes have cheese, speck, radicchio, chicken livers, leeks, smoked salmon, or whatever you like. Dishes with spelt (farro) or barley can also be called a 'risotto'. Risotto is a place where Italian cooks can follow their fancy.
More risotti:
risotto al Barolo: made with red wine and beef or sausage (Piedmont).
risotto alla certosina: rice with onions, leeks, peas and tomatoes, served with frog's legs, crayfish, perch and mushrooms (Lombardy).
risotto alla pilota: rice cooked in water with diced pork or ribs, a speciality of Verona (Veneto) and Mantua (Lombardy).
risotto bianco: cooked in white wine and water rather than in stock.
risotto di branzin: with sea bass (Veneto).
risotto in cantina: with white wine, butter, Parmesan and onion.
risotto di cape: with shellfish (Veneto).
risotto alla gambolo: butter, olive oil, tomatoes, parsley and basil (Lombardy).
risotto alla genovese: with a meat sauce, made with vegetables, herbs and wine.
risotto di gò: with gò or ghiozze (goby, a small fresh water fish) (Veneto).
risotto alla marinara: with seafood, and usually tomatoes, garlic, parsley, and white wine.
risotto alla milanese: very creamy, in chicken stock, saffron and butter.
risotto alla monzese: with sausage meat, tomato, Parmesan and a splash of Barbera wine at the last minute.
risotto al nero di seppia: black risotto with cuttlefish and their ink.
risotto alla paesana: with borlotti beans, potatoes, pancetta and vegetables. A very similar risotto is called paniscia novarese.
risotto alla parmigiana: in a rich beef broth, with sausage, chicken livers, bacon, vegetables, mushrooms and herbs.
risotto alla piemontese: with butter and grated cheese, and white truffles—if you're lucky.
risotta alla pitocca: with chicken (Lombardy)
risotto di secole: with beef scraps and onion (Veneto).
risotto con le telline: with clams and a tomato-pepper sauce (Viareggio).
risotto alla toscana: rice cooked in broth and tomato sauce, served with diced salame and grated cheese.
risotto alla valdostana: very creamy, with Parmesan and fontina cheese.
risotto alla veronese: with ham, served in a mushroom sauce.
risotto de la Visilia: classic Christmas eve dish of the Veneto, made with gò, eels, borlotti beans, and Parmesan.
risotto di zucca: with bits of pumpkin
Grumolo delle Abbadesse in Vicenza province holds a Festa del Riso for six days in mid September.