Art History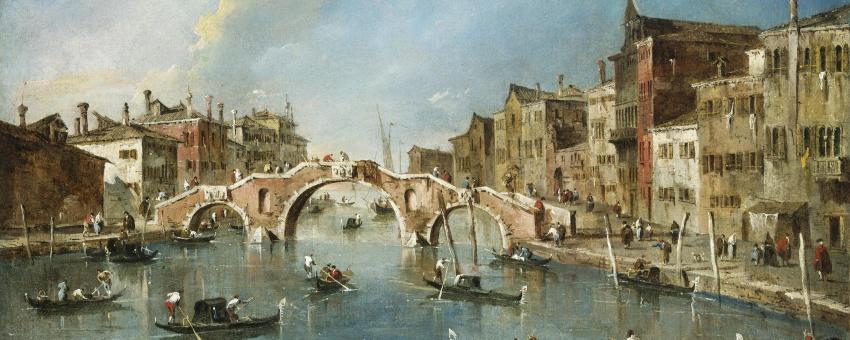 Their untrammelled genius is not overburdened with thought, nothing about them reveals any anxiety as to the interior life, and finally, as goes without saying, they did not trouble themselves about historical accuracy. The truth they sought to attain was that of colour, reflection, light, and shade, bold foreshortening, transparency of atmosphere, and the power of contrast. Pompeo Molmenti, Venice, 1926
If you had to pick out what sets Venetian art and architecture apart it would have to be its sensual immediacy: it demands little from the intellect, but everything from that tremulous bridge between the eye and the heart. Light is its ruling deity.
Giovanni Bellini and Titian pre-Impressionistically smeared oil paints with their fingers to diffuse the light in their canvases. Seascapes by Guardi dissolved into pure light. Even the architects took account of the light reflecting off the water when designing a church or palace.
After Florence, Venice was Italy's most inspired and original art city. But, as rich as it is, modern Venice offers only hints of its past glory: Venetian art was always popular abroad, and much of the best was sold to foreigners. The worst blow to Venice's heritage came when Napoleon 'relocated' some 20,000 works of art to France, including so much gold and silver that it took the French 15 days to plunder it all.
Although some of the most famous pictures and statues were later returned, Venice's art and architecture continued to bleed away throughout the 19th century, as bankrupt families and suppressed churches, convents and scuole sold off their Titians. The Austrians knocked down scores of palazzi when their owners fell behind in taxes, and in the First World War they dropped 620 incendiary bombs on the city for good measure. If you take into account losses from neglect, pollution and the damp, it is estimated that only four to ten per cent of Republican Venice's movable treasures remain in the city. Think of that when your eyeballs begin to swim.
Venetian art fits generally into several periods: Veneto-Byzantine (early medieval), Gothic (14th-early 15th centuries), the Early Renaissance (15th century); the High Renaissance (and Mannerism, the 16th century, Baroque (17th century), Rococo (18th century), and everything that followed.
This app also has entries to many of the individual artists, sculptors and architects with links to their works in Venice.