Scuola di San Giovanni Evangelista
One of the oldest in Venice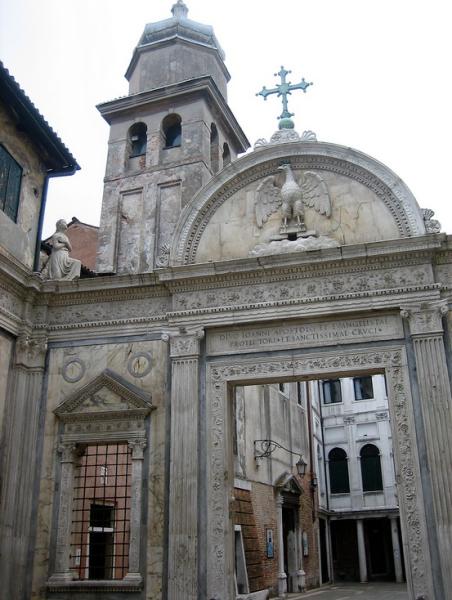 Founded in 1261, the Scuola Grande di San Giovanni Evangelista is one of the six 'grand' confraternities of Venice, originally as a brotherhood of self-flagellating penitents. The 'SZ' you'll see everywhere inside stand for San Zane, the Venetian for St John.
The Scuola has a lovely marble portal and screen or septum, delicately carved by Pietro Lombardo in 1481, with floral designs and a fierce eagle. Beyond is the scuola's little Renaissance courtyard, one of the prettiest in Venice, to which a number of artists contributed over the years.
The interior has been frequently reworked. The vast room on the ground floor, the Sala delle Colonne, was used as a meeting place for members and pilgrims. From here, you can walk up the jewel of the Scuola, the double ramp stairway, the Scalone Monumentale (1498) by Mauro Codussi, a bravura Renaissance work, cascading in sophisticated rhythms past domes and barrel vaults. Codussi used various visual tricks to make the stairway seem larger and grander than it really is, including enlarging the steps at the top (they are 70cm wider than the steps at the bottom).
Upstairs, the two main rooms are the Salone San Giovanni designed in the 18th century by Giorgio Massari, decorated mostly by Domenico Tintoretto with paintings on the Life of St John from The Golden Legend by Jacopo de Varagine, and a series of paintings on the Apocalypse. There are ornate rooms of 18th-century stuccoes, and the Oratory of the Cross, redesigned in the 17th century.
This was originally decorated with two series of paintings by Jacopo Bellini, which were damaged and replaced by masterpieces by Carpaccio, Gentile Bellini and others which have been since been shuttled over to the Accademia – celebrating the miracles of a fragment of the True Cross, the Confraternity's most prodigious relic. This was donated in 1369 by Philip de Mezières, Chancellor of the Kingdom of Cyprus and Jerusalem and is still preserved in a beautiful reliquary of 1371 behind the grille (Napoleon, of course, nicked it, but it was returned in 1929). It used to go for an annual outing through Venice, and dull indeed was the year that it didn't drive out at least one little demon or two.
Lastly in the 16th-century Sala dell'Albergo, which has preserved much of its original appearance, you'll find four paintings of scenes of the Apocalypse (1581-82) by Palma il Giovane.
Restored by the World Monument Fund (1969-79), the rooms of the scuola are often used for congresses and events. Check the website for opening days; occasionally they are used for concerts by the French romantic music specialists in the nearby Palazetto Bru Zane.
Also see the Scuola's church of San Giovanni Evangelistra.