Venice Historical Timeline
From Alaric the Goth to the Present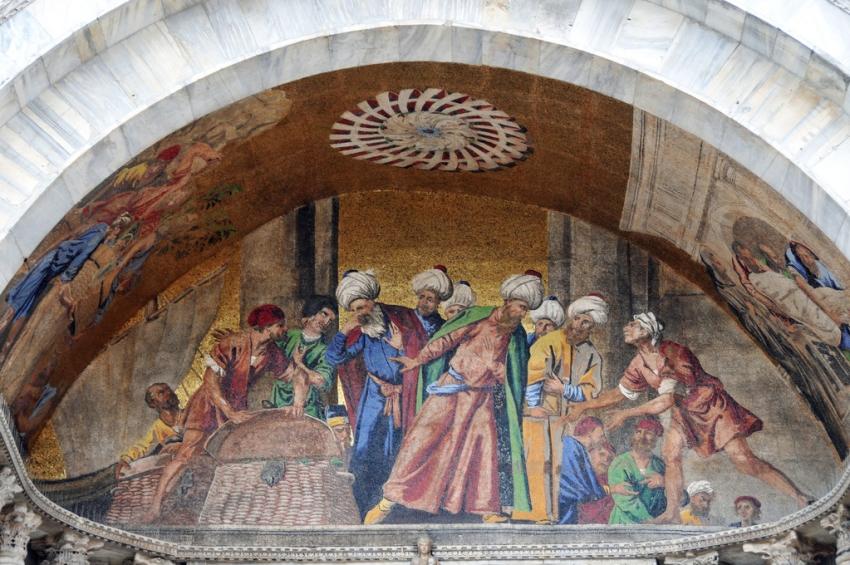 401 Alaric the Goth's sack of Aquileia.
425 Venice founded on 25 March; first settlement on the Rivoalto (Rialto).
452 Attila the Hun plunders Venetia; people seek safety in the Lagoon.
466 The twelve Lagoon communities elect their own tribunes.
560 Venetians assist Narses the Eunuch and are rewarded with Church of San Teodoro on the Rivoalto.
568 Lombards invade; inhabitants of Altinum flee to Torcello.
697 Election of the first doge.
726 Iconoclast struggles in Byzantium: first documented use of the title of Dux or Doge.
737 Rule of the Six Maestri de Militi.
742 Capital established at Malamocco.
810 Pepin, King of the Lombards (Charlemagne's son) unsuccessfully besieges the Lagoon. Charlemagne and Byzantine Emperor Nicephorus sign a treaty recognizing Venice as subject to Constantinople.
828–9 St Mark's body stolen by Venetian merchants.
932 Venice sacks salt rival Comacchio and removes its population to create a salt monopoly in the Adriatic.
960 Dalmatians raid Venice.
998 Emperor Otto III visits Venice.
1000 The Doge leads Venice's fleet in crushing the pirates of Dalmatia, beginning conquest of the Adriatic.
1095 First Crusade preached.
1098 Crusade expedition, first naval battles with Pisa.
1102 Venice establishes trading quarter in Sidon. 1104 Founding of the Arsenale.
1106 Great flood destroys Malamocco.
1123 Siege of Tyre.
1128 First street lighting in the city.
1166 Zara and Dalmatia rebel.
1171 Venice's trading colony in Constantinople, 200,000 strong, is arrested and its goods confiscated by the Emperor, on the instigation of trading rivals, the Genoese; Doge declares war on Empire, and leads Venice into a humiliating setback; six sestieri are established to facilitate tax collections.
1172 Doge Vitale Michiel II killed, after returning home, defeated by plague; establishment of self-electing Great Council limits the Doge's power.
1173 First bridge at the Rialto.
1204 Taking charge of the Fourth Crusade, 90-year-old Doge Dandolo subdues Dalmatia, Zara and captures Constantinople; Venice controls the Adriatic, Aegean, seaports of Syria and major East–West trade routes.
1253 First war with Genoa.
1261 Greeks retake Constantinople; merchants Nicolò and Matteo Polo make first visit to Kublai Khan.
1271 Polos retum to Mongolia, with Nicolò's son Marco.
1284 First minting of the golden ducat.
1291 Glass furnaces moved to Murano; Muslims retake Tyre.
1297 Serrata, or closing, of the Maggior Consiglio, limiting membership to patricians.
1298 Genoa defeats Venice at Curzola.
1300 The disenfranchised people of Venice rebel; ringleaders are beheaded.
1308 First papal interdict against Venice.
1310 Nobles led by Tiepolo conspire to seize power; Council of Ten established; constitution takes form that will endure until 1796.
1325 The Libro d'Or 'Golden Book' begun, listing Venice's noble families
1338 Church of the Frari begun.
1346 Santi Giovanni e Paolo begun.
1348 The Black Death halves the population.
1353 Venice defeats Genoa at Alghero.
1358 Revolt in Dalmatia.
1363 Revolt in Crete.
1373 Arrival of Jews in Venice.
1380 Genoa defeated at Chioggia.
1400 Birth of Jacopo Bellini.
1402 The death of Milan boss Gian Galeazzo Visconti leaves most of northern Italy up for grabs.
1405 Venice picks up its first mainland possessions: Padua, Verona, Bassano and Belluno.
1406 Angelo Correr, Patriarch of Venice, becomes Pope Gregory Xll.
1420 Venice weasels Udine and the Friuli from the King of Hungary.
1429 Birth of Gentile Bellini.
1431 Birth of Giovanni Bellini.
1450 Birth of Carpaccio.
1453 Mehmet II captures Constantinople; Venice quickly signs trade agreement with Sultan.
1454 Expansion on the mainland includes Treviso, Bergamo, Friuli, and Ravenna.
1456 Venetian Alvise da Mosto discovers Cape Verde islands.
1464 First Turkish war; Venice loses Negroponte and part of the Morea (Peloponnese).
1469 First books printed in Venice.
1478 Birth of Giorgione.
1484 Venice wins Rovigo and the Polesine from Ferrara, completing a terra firma empire that is to last until Napoleon.
1485 Titian born.
1488 Caterina Cornaro 'cedes' Cyprus to Venice.
1493 Aldus Manutius prints his first book.
1494 Italy invaded by Charles Vlll of France; Venice allies with other states to fight the French.
1498 Vasco da Gama's voyage around the Horn to India – the end of Venice's old trade monopolies with the East.
1508 Birth of Palladio. League of Cambrai formed against Venice by jealous rivals.
1510 League of Cambrai defeats Venice at Agnadello.
1512 Birth of Tintoretto.
1516 Jews confined to the Ghetto.
1527 Sack of Rome: artists, architects and scholars flee to Venice, bringing the High Renaissance in tow.
1528 Birth of Veronese.
1537 Turkish wars, territorial losses in Greece.
1539 Council of Three established.
1569 Three hundred Arsenale workers burst into the Ducal palace with axes.
1570 Turks take Cyprus.
1571 Battle of Lepanto, great naval victory over the Turks in the Gulf of Patras.
1576 A vicious outbreak of plague carries off 60,000, including Titian.
1577 Fire in Doge's palace.
1580 Birth of Longhena.
1606 The Great Interdict: Pope Paul V excommunicates Venice.
1630 Venice decimated by the most deadly plague of its history.
1631 Santa Maria della Salute begun.
1640 The Republic introduces coffee (as a medicine) to Europe.
1669 Venetians surrender Candia (Herakleon), Crete, to the Turks.
1685 Francesco Morosini reconquers the Morea for Venice.
1693 Birth of Tiepolo.
1697 Birth of Canaletto.
1709 Lagoon frozen solid.
1712 Birth of Guardi.
1718 Venice loses the Morea to the Turks.
1790 Construction of La Fenice.
1797 Napoleon abolishes Venetian Republic: apathy is replaced by anger when he sells it to the Austrians.
1806 Napoleon visits Venice.
1836 Cholera plague strikes the city.
1846 Railway bridge ends Venice's isolation.
1848 Daniele Manin's heroic uprising against the Austrians.
1866 Venice is joined to the new Kingdom of Italy; becomes provincial capital.
1895 First Biennale
1912 Publication of Mann's Death in Venice.
1928 New port of Marghera completed.
1931 Mussolini builds road causeway.
1932 First Venice Film Festival
1960 Venice gets an airport.
1987 Venice and its Lagoon becomes a UNESCO World Heritage Site
1966 4 November, terrible flood.
1996 La Fenice fire.
2008 Inauguration of Calatrava's Bridge
2013 First modules of MOSE flood barriers erected
2014 89% of online voters vote for an independent Veneto