Saint Mark's Treasury
Byzantine beauty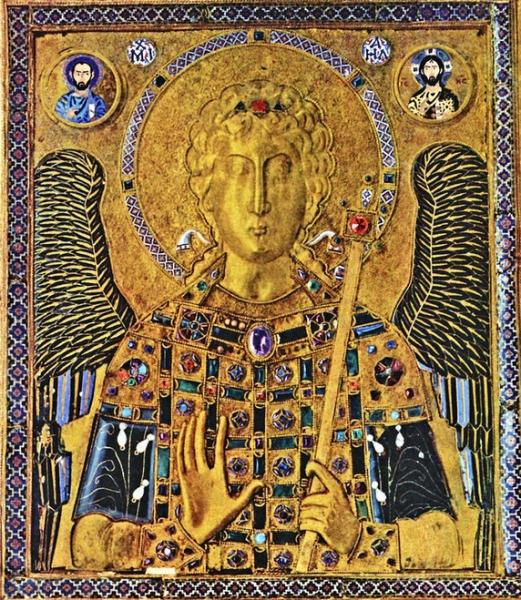 Entrance through St Mark's Basilica.
The capture of Constantinople by the Fourth Crusade, and its subsequent pillage and sack, was a tragic loss of art and beauty to civilization. With equal equanimity the rough Franks smashed and melted down the treasures of the ancient Greeks and Romans as well as the Byzantines; the Venetians at least had an eye for beauty as well as for the main chance. They salvaged what they could and shipped it home to the greater glory of their Messer San Marco. Five hundred years later Napoleon and his henchmen helped themselves to most it – and melted it down for 55 ingots of gold and silver.
All in all, this lends a sense of wonder to the small collection that has managed to survive: in fact, it's the world's finest surviving collection of Byzantine gold, silver and enameling.
But the objects displayed are beautiful and magical in their own right: the 6th-century marble Throne of St Mark carved in Alexandria, a gift from Emperor Heraclius to the Patriarch of Grado in 630; a 4th-century crystal lamp, embellished with a crab and something that looks like a piranha; a Byzantine glass bucket with hunting scenes; an Egyptian vase of porphyry and feldspar, perhaps as old as 3500 BC; St Mark's ring, an 11th-century icon of St Michael, with enamel portraits and Venetian filigree; a 1st-century ad onyx and agate chalice; a votive crown of Emperor Leo III, adorned with rock crystal (c. 900); a golden rose bush; an incense burner shaped like a five-domed Byzantine church; a turquoise bowl sent from the Shah of Persia in 1472; chalices of intricate gold embroidery studded with thumb-sized gems; a magnificently decorated dish of alabaster and enamels.
Hours Mon-Sat 9.45am-4pm; Sun and hols 2-4pm
Adm €3