Scuola dei Carmini
and its paintings by Giambattista Tiepolo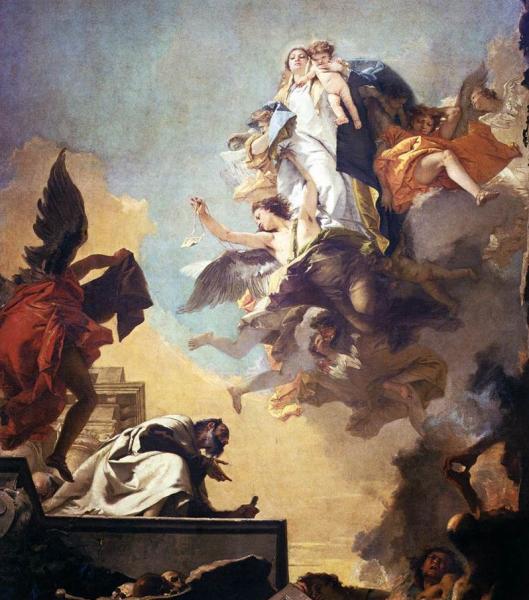 One of Venice's six Scuole Grandi, officially known as the Scuola Grande di Santa Maria del Carmelo, this charitable confraternity was founded in 1597 from the Pinzocchere dei Carmini, a lay women's charitable association that was responsible for sewing Scapulars for the Carmelites. After its suppression by Napoleon in 1807, it reopened under the Austrians, and has functioned as a charitable organisation ever since.
Built on a design by Longhena in the 1660s (his hand is best seen in the façade facing the Rio Terrà), the Scuola dei Carmini has a beautiful split stair and a ground floor entirely decorated with 18th-century chiaroscuri.
The main reason to visit, however, is upstairs. In the 1740s, Giambattista Tiepolo was paid 400 zecchini to paint the ceiling of the Sala del Capitolo; he made it one of his best and brightest works, with nine paintings centred on the Virgin in Gloria. In the centre, the Virgin presents a scapular to St Simon Stock (Carmelite tradition holds that Mary appeared to St Simon in Cambridge in 1251, when he prayed for assistance for his then-beleaguered order, and she recommended that he and the faithful wear the Scapular for its heavenly powers).
Eight other scenes feature female allegories and angels. Some of these are handing out scapulars; one miraculously catches a pious workman who has just fallen off the scaffolding of a church. You'll probably notice that most of these angels and allegories are showing off a good bit of leg, just to 'increase the faith'; they're some of the swellest gams on display in any Italian church, and a strong argument for those who maintain that the major purpose behind late Baroque ceiling painting was to get divine skirts to fly up.
Beneath this unforgettable ceiling, which has just been restored after part of the central panel fell down when termites ate away the border, there's mostly timid and undistinguished 18th-century painting, filling large expanses of the main hall and adjacent rooms, although there two major works to seek out: Piazzetta's Holofernes and Judith and Padovanino's Assumption of the Virgin.
Also see the nearby church of the Carmini.
Hours Daily 11am-5pm
Adm €7, €5 reduced for under 26 and over 65s, free for under age 6
+39 041 5289420