Squatters (and squatter bars)
Anarchism ain't dead yet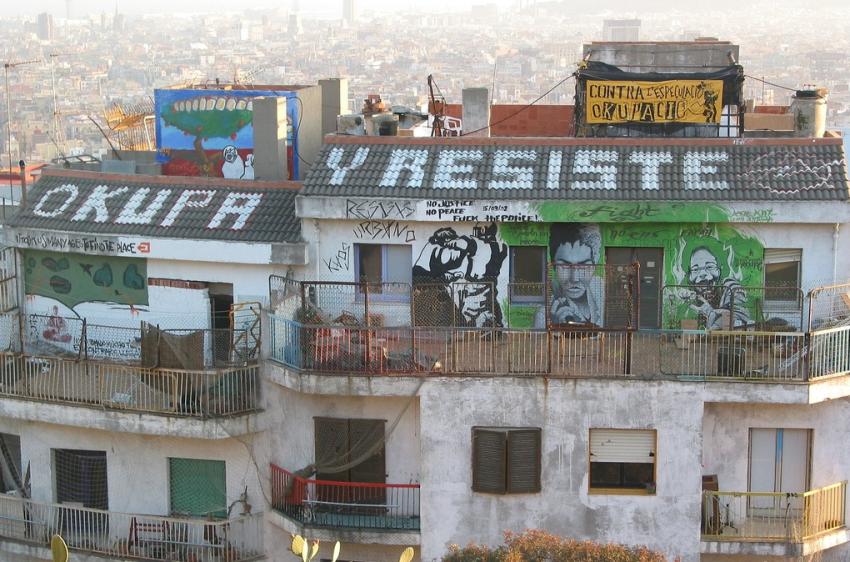 Okupa (as in 'occupied') in today's Barcelona means a squat, part of a low-key but thriving and increasingly well-organized squatter movement. It isn't surprising, in a city where property is so expensive that many young people feel they will never have the opportunity to own a home. There's a strong anarchist tinge to it, carrying on Barcelona's longstanding tradition.
For squatters, there's safety in numbers, and some okupas are big compounds, which as elsewhere in Europe try to play a role as social/cultural centres. One of these is La Teixidora, which occupies a historic building at C/ Marià Aguiló 35 in Poble Nou that in the 1880's was the headquarters of the Federalist-Republican movement of Francisco Pi i Maragall, who had been president of the short-lived First Spanish Republic in 1873. Can Masdeu, on the Collserola hill, manages big urban gardens and concentrates on environmental issues (up in the woods off Plaça Karl Marx in an abandoned hospital, metro Canyelles; open to visitors all day Sunday, with tours at noon)
Institutions like these not only provide people a place to live, but put on political and cultural events, classes, dinners and festivals, used-clothing sales, cinema and concerts. The Carboneria provides facilities for Barcelona's hacker community. For events, look out for street posters, or surf the web; there's a list of organizations here.
Things in Barcelona are not always as nice as they seem. The new autonomous Catalan police, the Mossos d'Esquadra, have already earned a roughhouse reputation. Their thuggish behaviour in clearing peaceful demonstrators from Plaça Catalunya in May 2011 (with a hundred cameras watching) shocked Spain.
It's often total war between the Mossos and the squatters, with frequent raids and sweeps of hospitals afterwards. On the other hand, there is a criminal element among the squatters themselves; sometimes squats can be just well-defended centres for drug traders—with some vicious booby traps set for invading cops. Need we mention, these days it's not a good idea to look too scruffy in the city centre. And give that mullet a trim; it'll only attract Mossos.
An essential part of the movement is the squatter bar, illegal dives the squatters set up to finance their operations. Some of these in the Barri Gòtic became popular, and these days it's impossible to tell what is a squatter bar and what isn't. Who would tell? Some places try to look squatter for the atmosphere and notoriety. Some started out squatting and moved up; others drift in and out of legality. Even in this music clip it all blows up in the end.
Some can be found in the area around Plaça George Orwell, an isolated little square off C/Escudellers, near the Plaça Real. Twenty years ago the Plaça was known as 'Trippi Square' and it was full of drug sellers; now it's more often full of drunks, cops and cameras. (The irony of CCTV in a square named for George Orwell is not lost on anyone; the cameras, along with a large crowd of Barcelonans, provided the audience for a performance by New York's Surveillance Camera Players in 2002).
Nearby, a storied survivor from the Trippi days is El Mariachi (C/ dels Còdols 14). Best-known as a hangout of Manu Chao (from the band Mano Negra) and his Rumba de Barcelona, it's a popular spot with musicians and serves some highly dubious cocktails.