Aire de Barcelona
Arab Baths by the Born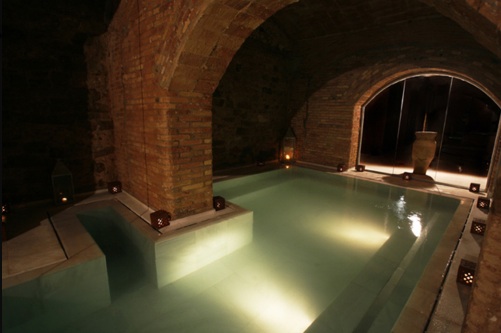 Back in the Dark Ages, as they began to conquer the Mediterranean, the Arabs adopted the art of bathing from the Romans, with their three stages for perfect toning: from the warm Templarium, to the relaxing heat of the Calderium, before an invigorating plunge in the cold Frigidarium.
Set amid the brick vaults of a former warehouse, Aire de Barcelona is an atmospheric recreation of the Arab baths, complete with candles, lanterns and a entrancing scents. They also offer a steam bath, the 'bath of a thousand jets', a Jacuzzi, warm salt water float baths, all with or without a massage (see the complete menu of services on their website). The ultimate indulgence: the classic Moroccan 'Argán ritual'. The Sunday morning sessions are accompanied by live music.
Numbers are limited, so be sure to reserve a 90-150 minute session in advance, either online or by phone—and check the website for special promotions.
Passeig Picasso 22
metro: Barceloneta, Jaume I
+34 93 295 5743