Plaça de l'Àngel
What happens to people who steal holy toe bones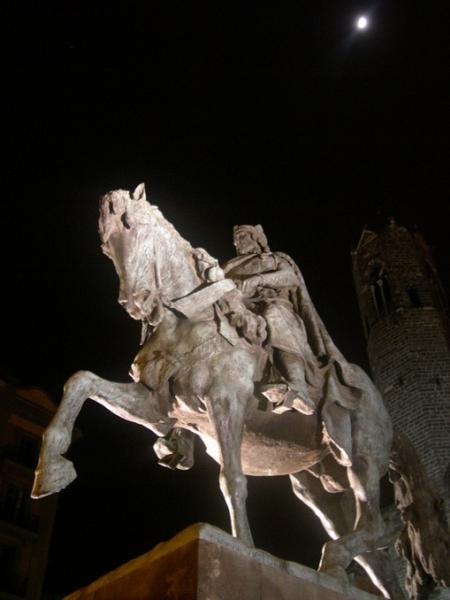 Once this square was the Plaça del Blat, or 'wheat square', where the city's grain was brought to market. At the time it stood just outside the old city walls, and in the 9th century it witnessed a miracle. When the relics of Santa Eulàlia's were being ceremoniously moved to the cathedral, the body, when it reached the square, suddenly refused to move any further. An angel appeared and pointed accusingly at an official, who confessed that he had stolen the saint's toe. He gave it back, and Eulàlia's bones allowed themselves to be moved the rest of the way. A monument to the accusing angel, erected in 1616, stood here until the anti-clerical city government of 1823 removed it; the angel now points from a niche in the façade of a building on the square.
The streets around Plaça de l'Àngel have Barcino's best-preserved Roman walls and towers, some as high as 46ft, making cameo appearances in a mesh of medieval building, especially along C/ Sots-tinent Navarro; one tower was discovered only in 1968. More walls, just up Vía Laietana in the Plaça de Ramón Berenguer III el Gran, overlook Josep Llimona's equestrian statue of the count who married Barcelona to Aragón in 1137 and made the city capital of a kingdom.
From Plaça de l'Àngel, Baixada de la Llibreteria will take you to the ancient city centre, with nothing to give you any clue that it once was the main Roman road into the city. It does however have the city's oldest shop, the Subirà Cereria, founded in 1761 and moved here in 1847 to make way for Vía Laietana; its 18th-century decor, with gilded woodwork, plaster torch bearers and frescoes make it the place to go if you happen to need a candle.