Plaça de Catalunya
The biggest square in Spain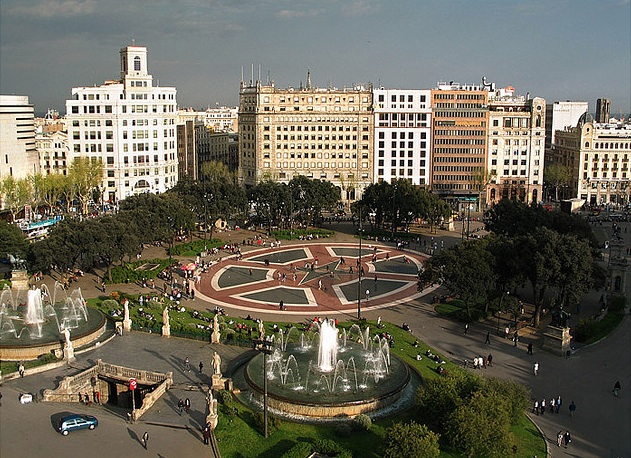 At the top of the Ramblas stretches the Plaça de Catalunya, focal point of the modern city, balanced neatly between medieval Barcelona and the Eixample. As squares go, it's up there with the blockbusters (Red Square in Moscow is only slightly larger), and surrounded by the heroic early 20th-century commercial architecture that the Catalans (like the rest of the Spaniards) did so well.
Cerdà intended something grand here, but politics, procrastination and disappointment with his Eixample plan postponed it. In the meantime, huge private mansions went up in the middle, causing more delays as their owners were taken to court to get them demolished. Finally, the square, as designed by Francesc Nebot, was inaugurated in 1927.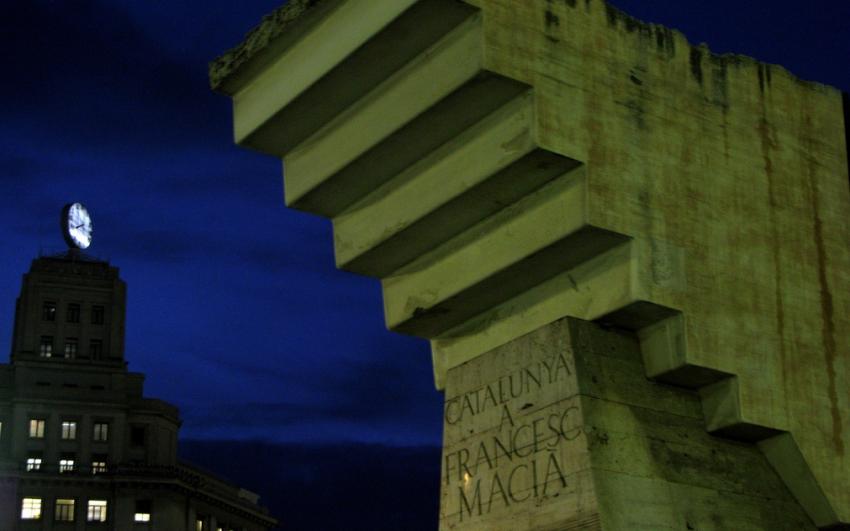 In the centre are two illuminated fountains and Subirachs' monument to Francesc Macià, Republican president of the Generalitat in 1931, a large upside-down stair on a pedestal. This Piranesian hulk looks ready to crush the Goddess, an older, wistful sculpture by Josep Clará. In the same Noucentista mould is Pau Gargallo's stone Shepherd Playing a Flute and the rather dopey Barcelona by Frederic Marés, an allegory of industry (Mercury) and maritime trade (a woman on a horse holding a ship).
Plaça de Catalunya stubbornly remains Barcelona's hub of human and pigeon life. Most transport lines converge here, and department stores occupy the fringes: El Corte Inglés, a cross between a ferry boat and a radiator; and the dull Triangle shopping mall (redeemed by a huge FNAC). During the Civil War, the Banco Español de Crédito was the Hotel Colón, which the Socialist PSUC used as headquarters and draped with enormous portraits of Lenin, Marx and Stalin.
When Franco's troops took the city in 1939, the military parade ended here. The offending portraits and all the other signs were stripped, and the square was renamed Plaza del Ejército, or Army Square. Thirty-eight years later, on 11 September, 1977, it was the focus of the first official post-Franco Catalan National Day celebration, one of the largest public demonstrations Spain had ever seen.