Opening Hours and Holidays
Don't get caught out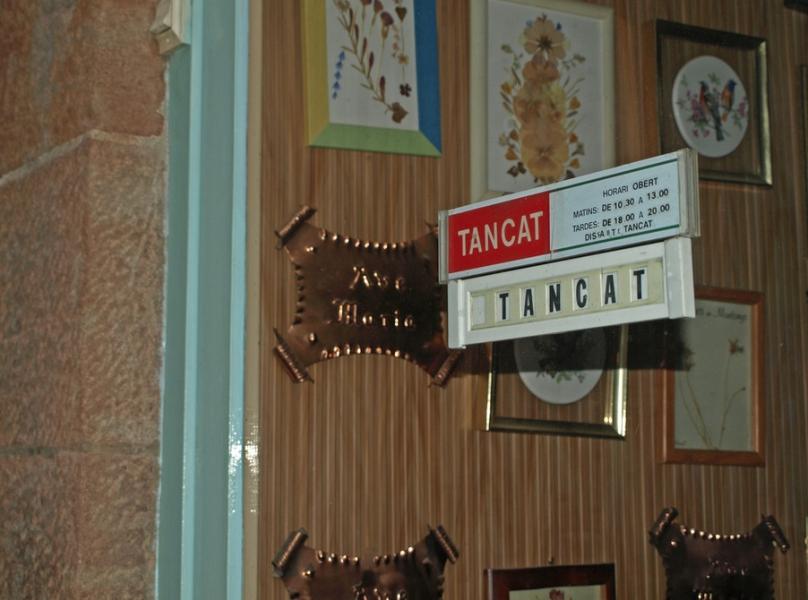 Opening Hours
Tancat means 'closed'!
Shops usually open at 10am. Even here in the city, many of them close for two or three hours for lunch, and then stay open until 8 or 9pm. Almost all close on Sunday.
Most banks are open Mon-Fri 8.30-2pm; Some may be open on Sat mornings too. The post office is open 8.30-8.30pm weekdays, Sat 9.30-1
Hours for museums and historical sites are given with each entry in this app. Most are closed Mondays and national holidays (see list below), though some museums will open specially on holiday Mondays. Note that many museums stop letting people in a half-hour before the listed closing time.
Formal restaurants usually serve 1-1.30 to 3.30-4 in the afternoons and 8 or 8.30 to 1.30 or 11 in the evening. You'll have a hard time finding anything open on Sundays, and many places stay shut for Monday lunch too.
Bar hours can be extremely erratic. Some don't open until the evening, and stay up til 1.30am if not later. Clubs might be open all night. A lot of places will have a concert at 10 or 10.30, and then follow with dancing until dawn.
The Metro and FGC suburban trains run 5 or 6am-midnight, except on Fri and Sat nights when they stay up til 2am.
National Holidays
1 Jan: Cap d'Any (New Year's Day)
6 Jan: Día des Reis (Three Kings)
Mar/April: Divendres Sant (Good Friday)
Mar/April: Pasqua Florida (Easter Monday)
1 May: Festa del Treball (Labour Day)
24 June: Sant Joan (St John's Day)
15 Aug: L'Assumpció (Assumption)
11 Sept: Diada Nacional (Catalan National Day)
24 Sept: La Mercè (Our Lady of Mercy)
12 Oct: Día de la Hispanitat (Columbus Day)
1 Nov: Tots Sants (All Saints' Day)
6 Dec: Día de la Constitució (Constitution Day)
8 Dec: La Imaculada (Immaculate Conception)
25 Dec: Nadal (Christmas Day)
26 Dec: Sant Esteve (St Stephen's Day)