Monument to Dr Bartolomeu Robert
The Mayor who Defied Madrid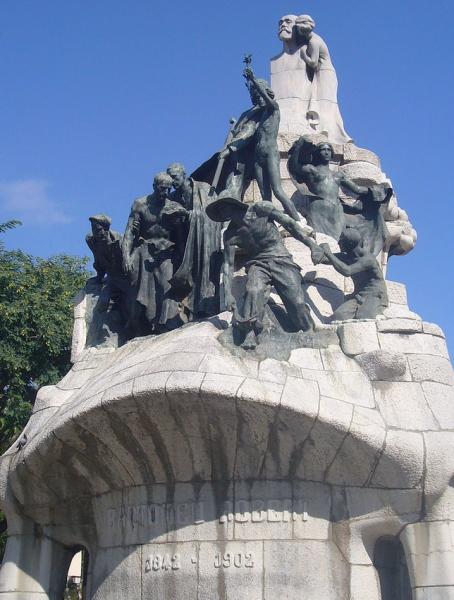 The otherwise undistinguished Plaça de Tétuan has a remarkable centrepiece: Josep Llimona's Modernista Monument to Dr Bartolomeu Robert. Dr Robert became the first Catalanist mayor of Barcelona in 1899, and gave his sanction to the Tancament de Caixes, or bank strike, that year: Madrid had raised taxes on bank profits to cover its losses in the Spanish-American War and, rather than pay, Barcelona's banks and businesses shut down. Madrid gave them a shock by declaring war on Catalonia; Robert resigned and no shots were fired, but his nose-thumbing at the central government canonized him as a Catalan hero.
When he died in 1902, the capitalists pooled their resources to give him Barcelona's most extraordinary public monument. Gaudí, a friend of Llimona, in all likelihood designed the pedestal, in the style of La Pedrera, but with stone breasts and bronze nipple taps; on top is Llimona's pile of 18 Rodinesque allegorical figures, crowned by a head of the mayor, while an allegory of Catalonia whispers sweet nothings in his ear. Note the figure with the sickle, a reference to the War of the Reapers and the Catalan national hymn.
Originally the monument stood in front of the university. The Franco government wanted to destroy it, but the Barcelonans quietly took it apart and packed it in a warehouse, where it sat until they resurrected it here in 1979.
Plaça de Tétuan
metro: Tetuán