Porxos d'en Xifré
Picasso's first Barcelona address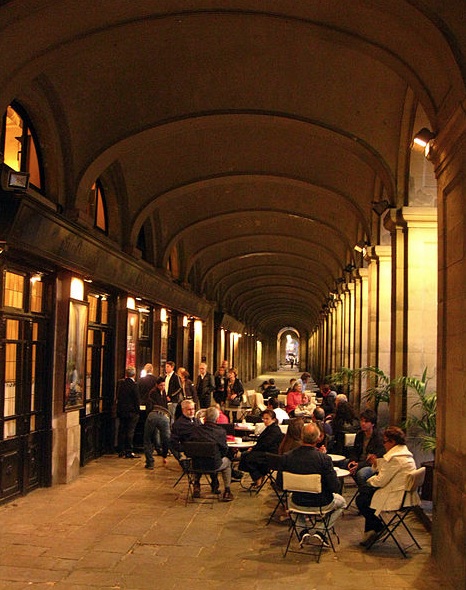 Opposite the Llotja, the Porxos d'En Xifré (1840) are two neoclassical blocks built by Barcelona's wealthiest man of the early 19th century, Josep Xifré i Casas (1777–1856), who made his pile in Cuba's slave-worked sugar plantations. Barcelona was in a recession at the time, and Xifré wanted to boost confidence. It was the biggest building project of the day after the Plaça Reial, and when rumours began to circulate that Senyor Xifré was going bust, he had a block made of solid gold and stuck in the wall to prove it a dirty lie (he replaced it with granite when the building was done).
Senyor Xifré, who had a hand in the design, was inspired by the colonnaded porticoes (porxos) along the Rue de Rivoli in Paris. He moved his offices into the building, then in 1836 decided he and the public needed a magnificent café that became known as the 7 Portes 'Seven Doors' (there were really eight, but one was reserved for the staff. It's still going strong today).
On the pediment, Cronos, History and a clock pose alongside Urania, the muse of astronomy (the motto reads 'Urania watches the motion of the sky and stars'). On the arcades, you can pick out portraits of explorers and conquistadors, and terracotta reliefs of charming putti in allegories of Cuban trade.
On 10 November 1839 the building was considered sufficiently impressive to become the subject of the first photograph ever taken in Spain. In 1895, it was the first address of the Ruiz-Picasso family; some of the earliest works in the Museu Picasso were painted or drawn on the roof.
Passeig d'Isabel II
metro: Barceloneta