Via Laietana
Catalonia's Wall Street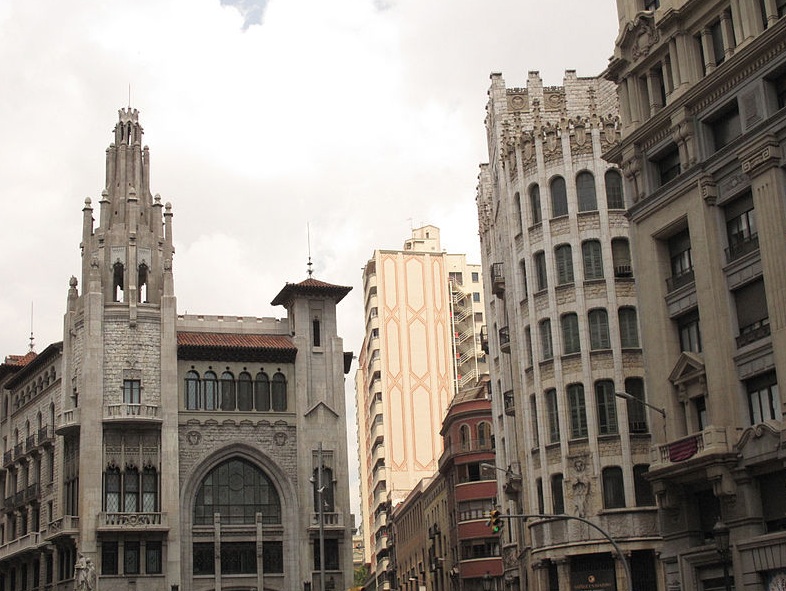 Named after Barcelona's first inhabitants, Vía Laietana was drilled through the medieval town in the name of progress in 1907, much to the horror of preservationists (who quickly moved to protect the rest of the Barri Gòtic from similar depredations). The intention was to create a modern business centre, and it does have its share of banks.
Heading north from Plaça de l'Àngel, there's the Casa Cambó (1921–5) at No.30, a cross between Noucentisme and the Chicago school, topped with a classical penthouse and lush garden. The same architect, Adolf Florensa, built No.31 in 1931, in the Florentine Renaissance palace style, and No.34, the Chicago-style Chamber of Commerce (1931–6).
The monumental neoclassical Caixa de Catalunya (1933) at No.35 looks like a refugee from Madrid, with its elaborate rooftop sculpture and vestibule à la Art Deco, a style rare in Barcelona. At No.50 stands a survivor from the past, the Casa dels Velers (1763), headquarters of the silk makers' guild, esgrafiadoed with atlantes and caryatids in the latest silks.
Imagine a building getting dressed in the dark in a vintage clothes shop and coming outside with nothing matching, and you have Enric Sagnier's neo-Gothic Caixa de Pensions (1917). Placed at the junction of Vía Laietana and C/ de les Jonqueres, it sprouts pinnacles and allegories on the virtues of saving.
A block up in Plaça de Urquinaona, Barcelona's first skyscraper, by Luis Gutiérrez Soto (1936), still scrapes quietly away.
The street oppposite the Casa dels Velers, C/ del Comtal, is named after Barcelona's first semi-legendary count, Guifré il Pilós, or Wilfred the Hairy, whose summer palace was here. Heading down C/ del Comtal, tiles at the corner of C/ de N'Amargós tell a story that happened in his reign.
Metro Jaume I or Urquinaona