Barcelona Zoo
Meet the heirs of Snowflake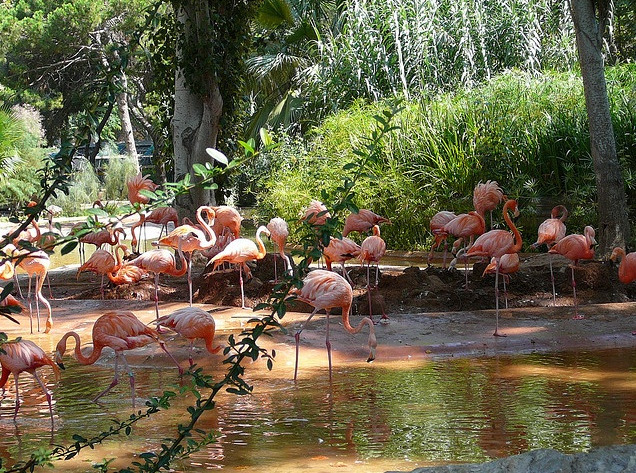 Barcelona's zoo, founded in 1892, occupies much of one end of the Parc de la Ciutadella in a pretty garden setting. At the entrance, the sculpture of a leaping deer is not a foretaste of some of the zoo's inmates but a tribute to Walt Disney from the 1960s. The zoo is so large that you may want to avail yourself of the zoo train or hire an electric buggy.
You'll find all the zoo regulars, a new orangutan enclosure, a petting zoo and a dolphin show (at noon and 3pm), but in spite of postcards still sold all over town, you won't find Snowflake, a rare albino gorilla with showbiz flare who arrived as a baby not long before Franco died and was regarded by the more facetious Surrealists as a portent: Snowflake was a fallen angel come to announce doom to the smug. He died in 2003, but lives on—in white chocolate. Several of his children and grandchildren are in the zoo, but none are albino.
Within the zoo stands another symbol: the fountain that became the coy mascot of the 1888 Universal Exhibition, the Senyoreta del Paraigua, 'the lady with the umbrella', by Joan Roig i Solé. Her name is Josefina, or Pepita, and like Gaudí the original Pepita came from the town of Reus, near Tarragona. When the fountain's switched on, water spurts prettily from the top of her umbrella.
Parc de la Ciustadella
Hours 10am-5.30pm (Oct-Mar) to 7pm (Apr-mid May and mid Sept-Oct) to 8pm (mid May-mid Sept).
Adm €19.90; ages 3-12 €11.95; over 65 €10.95. Combined tickets with La Pedrera available
metro: Ciutadella-Vila Olímpica
+34 902 45 75 45