Liceu
Barcelona's Opera House
The Liceu opera house, inaugurated in 1847, was gutted by fire only fourteen years later. It was immediately rebuilt by Josep Oriol Mestres on an even grander scale, with 4,000 seats (second only to Milan's La Scala).
As a symbol of the élite, the Liceu was the target of the most notorious of all the city's Anarchist attacks, on 7 November 1893. During the second act of William Tell two bombs were hurled from the upper gallery into the orchestra – a bull's-eye strike on the bourgeoisie. The final toll was 22 dead and 50 wounded; in the chaos that followed, the perpetrator, Santiago Salvador, calmly stood by the front door and watched them carry out the bodies. Justice caught up with him in Zaragoza and he was executed the next year, singing the Anarchist anthem until the garrotte cut him off mid-voice.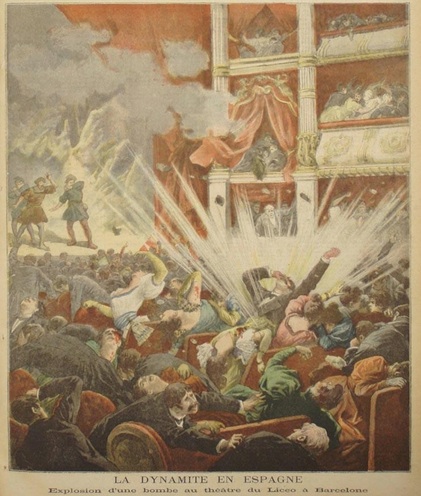 A century later, in 1994, the Liceu burned to the ground again, during last-minute work on the set for Turandot. A campaign to replace it began immediately and, by late 1999, the prima donnas were again tickling the ears of Barcelona's opera mavens. The new theatre is a clone of Oriol Mestres' much-loved old building, as well as a vast improvement on a building that had become rickety and congested. Some of its former eccentricities have been surreptitiously ironed out: sightlines and acoustics are much improved, the stage area has been almost tripled and a computer system installed to handle all the stage machinery. You can even catch English subtitles on the back of the chairs.
The lobby has the opulent grandeur of yore and a wide marble staircase leading up to the dazzling Salon of Mirrors, the fashionable meeting place of late 19th-century society. Plump green and gold columns and glittering chandeliers are reflected endlessly in gilt-edged mirrors, while simpering muses and allegories of music scamper overhead amid florid musical slogans. The auditorium, one of the largest in Europe, is a great whirl of gilt and red velvet.
In this music-mad metropolis, it isn't surprising that the Liceu hosts a series that runs nearly the entire year, staging a dozen different operas and filling the rest of the time with concerts and dance, which you can preview on the Liceu's YouTube Channel. They've recently hosted productions of Wagner from the Bayreuth Festival, among a dozen other operas from Mozart to Kurt Weill; Alvin Ailey and other great dance companies, and a score of other concerts.
Purchase tickets online, or via the Liceu app, or through one of these outlets.
Las Ramblas 51-59
metro: Liceu
Information: +34 93 485 99 00
Tickets: +34 902 53 33 53