Watch your bag!
And keep a hand in your money pocket, too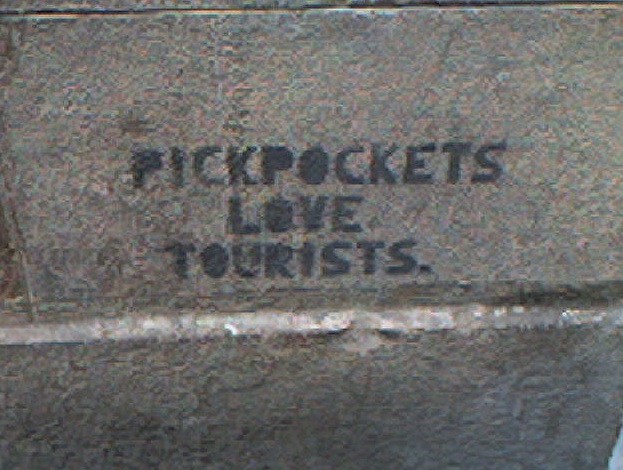 Along with modernisme and tapas, Barcelona is world-renowned for petty crime. Crime statistics are notoriously unreliable, here as anywhere else, but during the tourist season there are an estimated 6,000 thefts per day. In 2009, TripAdvisor.com called Barcelona the worst city in the world for pickpockets.
Visitors by the thousand complain how the Barcelonans (and especially the police) seem totally indifferent to the problem. Locals seem to think the perpetrators are foreigners (which is often true), as are the victims (again true; locals are more street savvy), so it's nothing to do with them. And the police have little incentive to attack the problem; punishments for petty crime are laughable, and the courts often just throw offenders back on the street.
Muggings are rare (though parts of the Raval can still be pretty hairy). Bag snatchers might cause an injury if you resist. But on the whole it's the small-time stuff. Besides grabbing bags and jewellery, and pickpocketing, thefts from hotel rooms, café tables and cars are depressingly common.
For pocket-picking and the various scams practiced here, the Ramblas is paradise. Big crowds and distractions create the perfect opportunity. Even many of the prostitutes and beggars on the Ramblas are really pickpockets.
Some local specialities:
The shell game: Can you believe it? Some people still fall for this. Sometimes, the point is not to take your money by prestidigitation, as much as to distract you for the pickpockets behind you. This is common on the Ramblas, where we've even seen guys set up chuckaluck (three-card monte) tables—makes you think you're in the 1950's (or the 1850's).
'La Mancha' (the 'spot'): Someone surreptitiously squirts some goo on your clothes, then stops you and points it out and helps you clean it off. Guess what happens next. There are plenty of similar tricks; whenever someone starts talking to you unexpectedly or does anything to distract you, look out. Watch out too, for people pretending to be drunk and staggering or dancing in the street.
Metro tricks: Crowded cars are great places to go after a bag or wallet. These days, our friend on the Mossos says to watch out for dyed-blonde girls from Eastern Europe pretending to be tourists; one distracts you by asking directions, etc, while the other does the nicking (especially on the tourist-heavy Line 3). Last-minute snatch-and-run while the doors are closing is also popular.
Good old-fashioned swindles: He (or she) has just been robbed and has no money, has lost his bag, needs to change some foreign currency, needs money to get home. A man pretends to be an undercover policeman and demands your passport. A gypsy woman hands you something, or pins a flower on you. She won't take it back; she'll annoy you until she gets your money instead.
Car Attacks: Robbing people getting in or out of cars is increasingly common, as is the flat tire trick. They look for loaded-up people leaving hotels, puncture the tire at a stoplight and then come up and warn you about it, and then get your bags while you're changing the flat.
On the Beach: Don't leave your kit unattended; robbers have even begun taking the clothes of naturists, who have found themselves in a pickle when they come back from a swim. The police there have begun carrying emergency tee shirts and shorts to save everyone's blushes.
The bottom line: keep your guard up, like the Barcelonans do. Mind your stuff. Don't leave bags unattended, and don't stand around gawking at a map. To reduce your chances of trouble, don't dress like a tourist. No shorts, no backpacks, no fanny packs, no expensive cameras. And, my fellow Americans, do not dress like Americans. You'll be safer and you'll make the world a nicer place.
The European emergency police number is 112. For the firemen (bombers, in Catalan) 080; for an ambulance, 061.
Between 9am-9pm, Mon-Sat you can report a petty crime by phone +34 90 210 21 12 a national English-speaking service) or online right here. You'll have to visit the station later, but having a reference number will save you time there. There's a special 24-hr Guàrdia Urbana office for tourists at Ramblas 43. If you need consular assistance, see here.
It's a bottomless subject, really. Watch a professional pickpocket explain how it's done.