Restaurants: How to Eat
The real problem may be 'how to stop'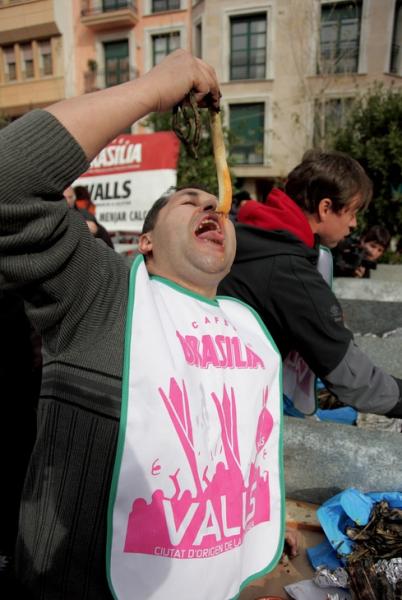 What to Eat
Catalan cooking wouldn't be Catalan without a double dip of eccentricity. The gentleman pictured above is participating in a calçotada—every spring the Catalans put on their bibs and pig out indecently on kilos and kilos of enormous green onions called calçots, done up crusty black on an outdoor grill.
But the upper stratosphere of Catalan cuisine is a rarefied place indeed; there are, as of 2016, there are 22 Michelin-starred restaurants within the city limits (see below). And the Catalans take cooking with the same intense seriousness they take everything else, with manifestos and denunciations flying.
Right now, it's the battle of Ancients and Moderns—defenders of traditional cooking versus the wild experimenters, buoyed by the international mania for Ferran Adrià's El Bulli (now closed), with its ponderous pretensions and its foam and test tubes and liquid nitrogen. Today Ferran and his brother Albert, along with the Iglesias brothers, have created, elBarri, what without any false modesty call 'the most exciting, complex, sophisticated and imaginative project of all time' encompassing six different restaurant experiences.
Both have their good points, although the traditionalists are on the defensive these days, while former employees of Adrià are running restaurants all over town. Even these seem to be slowly giving up the fruity excesses of 'molecular' or even technoemotional' cooking, in favour of just concentrating on fresh, local organic ingredients prepared in novel ways, and presenting the meal as a degustació, a tasting menu (which usually means no choice for the diners).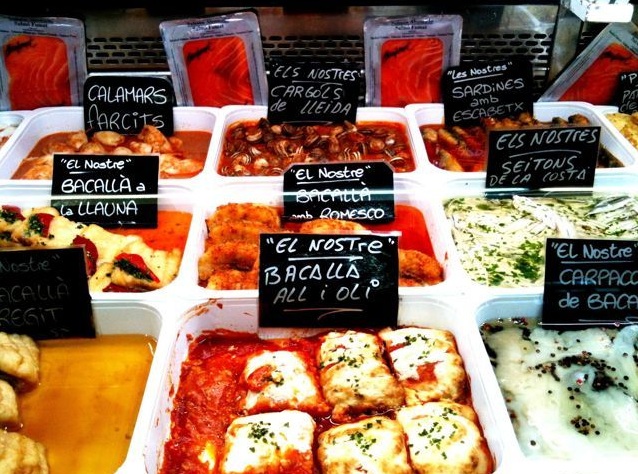 Have a look at one of the city's many covered markets, like the famous La Boqueria on the Ramblas, and you'll see what makes Catalan cooking work—some of the finest, freshest ingredients in the world. Particular favourites include garlic (by the ton) and tomatoes, bolet mushrooms and aubergines, which are found in some great recipes including samfaina, a Catalan ratatouille. They're crazy for anchovies, and convinced theirs, fished along the Costa Brava, are the best on the planet. Almonds and hazelnuts turn up everywhere, often made into sauces like the celebrated romesco of Tarragona.
Amanida is the unusual word for salad, and in these the Catalans excel. You might find almost anything in your amanida; some of the best have seafood, like the xató, with salt cod, tuna and one of those hazelnut/almond sauces.
As you would expect, seafood is a religious thing here, and the city's cooks do their best to keep up with the high-flying Basques and Galicians. Bacallà (salt cod) is a staple, and it can be transcendent (if they soak it long enough). Catalans like fish soups (caldereta, suquet) and any good chef has his own recipe for a mar i muntanya spectacular with both meat (chicken, probably) and seafood in it. Catalonia grows a lot of rice on the Ebro delta, and there are many variations on paella. Look out for arròs negre—a 'black rice' paella coloured with squid ink that is fantastic, especially when it's made with smoked rice (yes, smoked rice).
The Catalans aren't big on cheese, but they've been famous for sausages and charcuterie since they came down from the mountains in the Middle Ages. The peoples' choice is the humble but tasty botifarra; a couple of these sausages with a side of white beans (mongetes) is as close as you get to a Catalan national dish.
Barcelona is as cosmopolitan a city as you could ask for, and you'll have no trouble finding Asian restaurants (over 600 of them), or just about anything else. Japanese cooking is very popular here, and there are even places where you can a truly good hamburger.
Nearly all restaurants have menus in English, but if you get stuck, we've included a menu decoder.
In recent years, the Catalans have discovered tapas in a big way: for more see here.
Wine
Catalan wines have long been underrated, but that is changing. Most of them come from areas quite close to the capital, like the Peñedès whites and the red called El Priorat, Catalonia's finest, from Falset in Tarragona province. But Catalonia is best known for cava—Catalan champagne (and just as good, as anyone in Barcelona will tell you). It comes from Sant Sadurni d'Anoia, near the Peñedès area just west of Barcelona. They don't save it for celebrations; a Barcelonan might have a glass of bubbly as an aperitif, or any time of day. We've seen empty bottles of the stuff on doorsteps in alleys.
Restaurants
At the time of writing, Barcelona boasts 22 Michelin starred restaurants (including the three star Sant Pau), more than any other city in Spain:
Vegetarian/Vegan Restaurants
These are increasingly popular, not only with vegetarians; many also offer dishes without gluten. Most are also cafés open throughout the day.
Hours
Most restaurants open 12 or 1 to 3pm, and 8 or 8.30 to 11 or even later in the evening. There are so many of them you'll never starve; something edible will be within a block of you at any time of the day—except on Sunday, when many restaurants close; some take Mondays off too. And quite a few of the posher places close down completely in August.