Bars, Cafés & Tapas
An introduction to a movable feast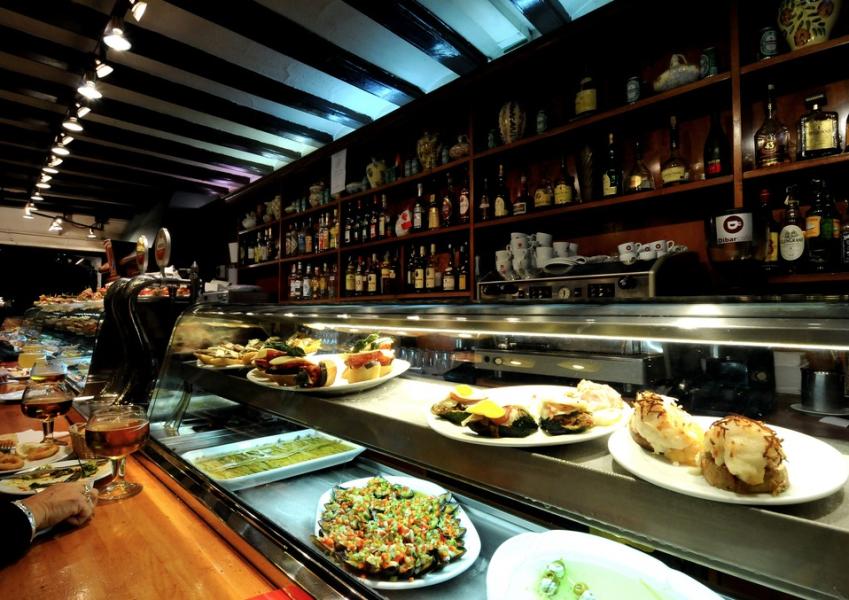 It's rare to find yourself more than a minute away from a bar or café in the centre of Barcelona, and it's rare to find a Barcelonan of any age or sex who hasn't popped in one at least once a day to their local for a quick breakfast or aperitif.
Note that almost all cafés served drinks and almost all bars serve coffee; cafés are generally more likely to have terraces or indoor seating. If you sit outside, you'll usually be expected to pay when served; standing at the bar, you usually pay when you leave.
Opening hours
While cafés general stay open all day, bars tend to have their own whims; many do not open until 3pm or even later, and stay open late. Note that even if bars officially close at 2 or 3am, but if the ambience is good the owner will close the door and let the party continue inside.
Coffee and Tea
The coffee is good and available nearly everywhere. Order it in a variety of ways:
Café: an espresso
Café americano: black, more diluted coffee
Café cortado or tallat: with a dash of milk
Café con leche or cafè amb llet: with more milk
Café a carajillo: an expresso with a dollop of brandy or rum (great on cold days)
Descafeinado: decaffeinated
Tea (be warned!) generally means a bag in barely hot water or in a glass of warm milk if you've ordered it 'con leche'.
Drinks
All bars serve wine by the glass (negre for red, blanco for white, rosado for rosé), but don't expect anything special unless you go to a wine bar or old-fashioned bodega, with big oak barrels. And you don't need an excuse to order a glass of Catalonia's bubbly cava—prices are similar to glasses of wine. Order brut nature if you like it really dry; try it with a ham sandwich at Can Paixano.
Barcelonans are mad for cocktails, and many specialize in gin and tonic (or gin tonic, as it's simply known here), with jaw-dropping menus of gins and tonics to choose from. Or try the traditional aperitif, a tumbler of draught vermut on ice with a plate of olives and anchovies.
The Damm company has sewn up the local beer (cerveza) market, with its Estrella lager and the heavier Voll-Damm. The city's first beer, Moritz (1856) was relaunched in 2004, though now they make it in Zaragoza. Several bars, however, specialize in a wide choice of beers from around the world; the Cerveceria Catalana is probably the best known. A caña is a small one, a jarra is a pint.
Tapas
It's nearly impossible to find a bar these days that doesn't serve some kind of food. Barcelonans love to drink but rarely get drunk: they balance the booze with food. And like their fellow Spaniards, they have evolved the perfect philosophy for these matters—you can get something whenever you want it, and you can get lots of it or just a little bit.
Once, Catalans were the virtuous, hard-working Yankees of Europe, and they had no time for a bar and tapa culture like other parts of Spain. In the 21st century, it's fair to say they've finally realized their error, and they're doing their manic best to make up for lost time.
Bars and cafés serve up tapas ranging from simple plates of cheese or embotits (charcuterie) or a bit of omelette (truita, or tortilla in Spanish), or spicy patatas bravas, to complex gourmet compositions that cost €5 or more. At some places, such as Tickets, you can make a whole meal of gourmet tapas; for a more traditional array of little plates of delectable seafood it's hard to beat Cal Pep.
Remember if you want a big plate of something, ask for a ració (ración). Quite a few places feature Basque pintxos, little open-face sandwiches that are the grandest tapas of all. You'll see quite a variety of sandwiches, which may be called bocadillos or entrepans or montaditos, and you'll never be far from a coca, the oval mini-pizza with various toppings that is the classic Catalan street food.
After dark...
Barcelona's nightlife cranks up after 11pm and at weekends lasts until a late breakfast, if you've got the energy (and money) to keep up. At some point in the evening everyone hits the bars: some have enough music and fun to keep you entertained all evening, while others collect the crowds before hitting the clubs.
Great places to start an evening off are the bars in the Barri Gòtic; La Ribera/El Born, especially around the Passeig del Born; the Plaça Reial off the Ramblas; Gràcia; and in the streets around the Passeig de Gràcia. But there are also gems in El Raval and Poble Nou, including many that have remained miraculously unchanged in spite of the city's obsession with design. Cheers! Txin txin!