Ajuntament
Barcelona's city hall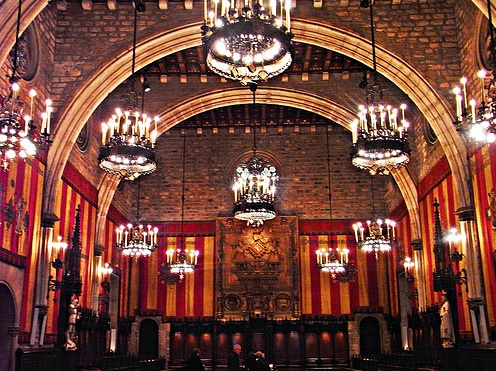 On Plaça de Sant Jaume, right across from the Generalitat, stands the complimentary (and sometimes conflicting) centre of power in Catalonia, Barcelona's city hall.
Jaume I sowed the seeds for the Ajuntament (literally, city council) at the same time as the Generalitat, when he appointed a committee of 20 peers in 1249; by 1272 this had evolved into the annually selected Consell de Cent (Council of a Hundred), which ruled the city until 1714. It proved to be one of Europe's most successful representative governments, partly through its unusual flexibility: tradesmen as well as patricians served. To avoid politicking, names of approved candidates were chosen by lottery.
Like the Generalitat, the Ajuntament's palace got a dull neoclassical façade, but also like the Generalitat it's good Gothic underneath; a part of the original can be seen on C/ de la Ciutat, watched over by Santa Eulàlia. The oldest part of the building, the Saló de Cent by Pere Llobet (1372), has round ribs reminiscent of Saló de Tinell; it was restored by Domènech i Montaner in the 1880s.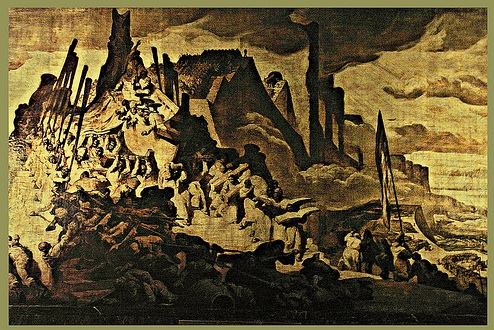 The Saló de las Cròniques is lined with bravura golden murals on the glories of Catalan history by Josep Maria Sert (1928). Sert went on to decorate New York's Waldorf Astoria and Rockefeller Center (famously painting over Diego Rivera's murals glorifying Lenin). Unlike many artists, he stayed in Spain after the Civil War; Robert Hughes called him, perhaps unfairly, 'the Tiepolo of the dictatorship'.
Plaça de Sant Jaume
Hours Open Sunday mornings; guided tours in English at 11am.
Adm Free
metro Jaume I
+34 93 402 70 00