Santa Maria del Pi
Our Lady of the Pine tree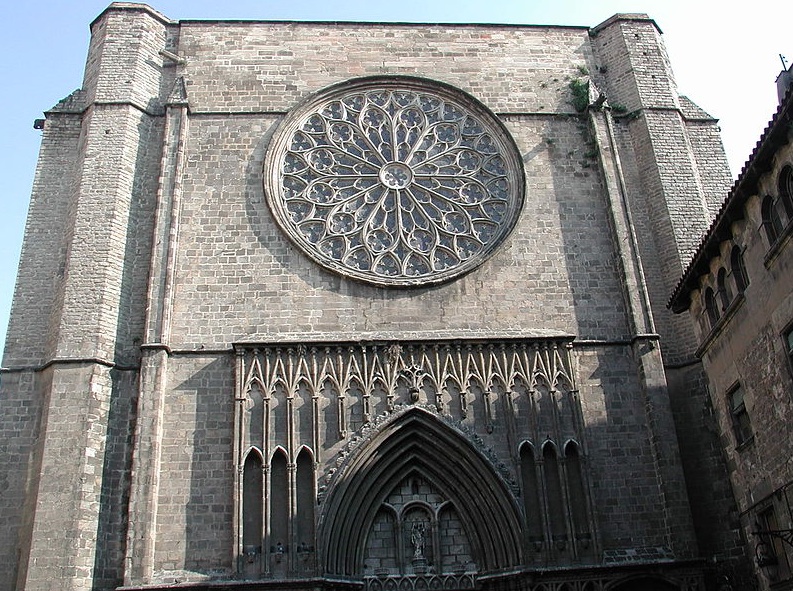 One of the best-loved churches in Barcelona, Santa Maria was founded in the 10th century and rebuilt in 1322 as a textbook example of Catalan Gothic – austere and wide, but with a rose window they claim is the largest in the world. The Anarchists burned out the interior during the Civil War, and most of the original stained glass was lost, but after the war it was replaced by the indefatigable Josep Maria Jujol. The choir was built with a stone arch even shallower than the vault in Santa Eulàlia's crypt in the cathedral. It was rebuilt in the 19th century, and everyone hopes it will last, because no one knows how to build the like today.
The intimate squares surrounding the church, Plaça del Pi with its commemorative pine tree and Plaça de Sant Josep Oriol on the side, were originally cemeteries, and are now one of the liveliest corners of the city, filled with cafés and frequent markets for artists and craftsmen.
At Plaça del Pi 3, the former retailers' guild has the oldest surviving esgrafiado decoration in Barcelona, dating from 1685, and at the corner of C/ de Petritxol stands the ominous-sounding Casa de la Sang, or 'House of Blood'. This is the home of the confraternity of the Puríssima Sang, founded in 1342 to comfort prisoners condemned to death, accompanying them to the scaffold dressed in long black robes with conical face-covering hoods (the prisoner and executioner were decked out in similar hoods, to confound angry lynch mobs along the way); Michelangelo belonged to a similar order in Rome.
C/ de Petritxol is a pretty street, lined with old houses and garden balconies and tile decorations. At No. 5, the Sala Parès is the oldest art gallery in the city (1884), once owned by the son of poet Joan Maragall. Ramón Casas, Isidre Nonell and a 20-year-old Picasso all had exhibitions here.
Plaça del Pi
Hours Daily 9.30am-8.30pm
Adm Free; crypt, treasure and tower €4, €3 ages 7-16 and over 65, under 7 free
metro Liceu
+34 93 318 47 43