Jacint Verdaguer
The 'Prince of Catalan Poets'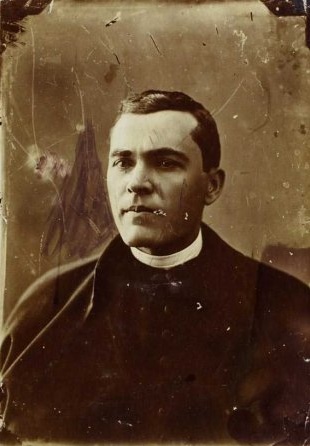 Jacint Verdaguer i Santaló (1845-1902) grew up in the small town of Folgueroles, in rural Catalonia, the son of poor but literate peasants who loved to read. They sent their clever son at age 11 to the seminary of Vic, and he first attracted wider attention in 1865, he participated in Barcelona's Jocs Florals and won four prizes. At age 22 he was ordained a priest, or mossèn in Catalan.
His poetry attracted the attention and friendship of Frédéric Mistral, who led the revival of the Occitan language of southern France, and would win the Nobel Prize for literature, notably for his epic poem, Mirèio (1865).
Verdaguer, however, suffered from a mysterious disease that led to chronic fevers and wasting away. His doctor sent him to Barcelona, with its superior medical treatments, where he met Claudio López, the Marquis of Comillas. The Marquis was charmed by the lyrics of the young priest and arranged for him to serve as chaplain of the ships of the Companyia Tranatlántica between Spain and Cuba, a position he filled for two, making nine crossing back and forth, and inspiring his own great epic poem, L'Atlàntida, in dense rich Catalan verse and imagery, described by Robert Hughes as a
congested dream with mythological origins, populated with indistinct and titanic figures: a poem about a primal ocean, the sinking of Atlantic, the rising of Europe, the creation and burning of the Pyrenees, the founding of Barcelona by Hercules...an epic of cosmic fermentation, told by an ancient hermit to a young Genoese mariner, shipwrecked on a remote island. At the end of the poem this youth turns out to be none other than Christopher Columbus, now inspired by the sage to repeat Hercules' discovery and conquest of the western isles.
No one had ever written a Catalan foundation myth before. It won first prize at the Jocs Florals in 1877, and Verdaguer was hailed far and wide. The Renaixença had yielded one of its finest fruits. The young poet priest was sent to visit the Pope Leo XIII in Rome. Three years later he was declared a Mestre en Gai Saber at the Jocs Floral. The Marquis de Comilla made him the family's chaplain and almoner (alms giver), and gave him an apartment in the Palau Moja, overlooking the Ramblas.
Verdaguer's poetic career continued to rise to the Catalan heavens. In 1883, his Oda a Barcelona so impressed the Ajuntament that it produced a hundred thousand copies. O He published his second great epic poem, Canigó in 1885, named after the Catalan sacred mountain (one of the tallest and most distinct in the eastern Pyrenees), recounting the legendary origins of Catalonia. He made a pilgrimage to the Holy Land, financed by the Marquis. In March 21, 1886, the bishop crowned him as National Poet of Catalonia in the monastery of Ripoll.
This massive amount of praise and adulation apparently pushed Verdaguer over the edge. He became filled with doubt as to whether he had filled his priestly vocation. Depressed, he became obsessed with piety, writing in a letter not long after became the National Poet: 'I have seen my forty years pass one by one, and I am ashamed of them all.'
He began to give away massive amounts of the Marquis de Comilla's money, and dabble in exorcisms, and perhaps worst of all, from his patron's point of view, he stopped writing wonderful poetry. The Marquis consulted with the Bishop of Barcelona, but Verdaguer wouldn't listen to anyone, and in 1893, he was sent to rest in the sanctuary of la Gleva near Vic. In 1895, he returned to Barcelona, and the following year sold off the rights to all of his literary works for peanuts.
Thinking he had gone bonkers, the Bishop stripped of his office as priest, but Verdaguer fought back, writing a series of articles in the newspaper: literary Barcelona and the modernistes took his side against the Church and the bourgeoisie. Verdaguer finally gave in and recanted from his unorthodoxy and exorcisms, and was readmitted to the priesthood, and was allowed to say Mass in the Iglesia de Belén, ironically just opposite the Palau Moja on the Ramblas.
On 17 May 1902, he was placed in the Vil·la Joana, in Vallvidrera, where he hoped to convalesce, only he died three weeks later. The house is now a literary shrine; Verdaguer was buried in the Cementiri del Sud-Oest on Montjuïc, his funeral attended by some 10,000 mourners.
Manuel de la Falla put L'Atlàntida to music, initially as a cantata and then as an opera, although he died before finishing it, leaving it to others to put together; Victoria de los Angeles sang in its premiere in 1962 at the Liceu. Recently some of his poetry been translated into English: see Selected Poems of Jacint Verdaguer: A Bilingual Edition, edited and translated by Ronald Puppo, University of Chicago Press, 2007.