Festivals and Events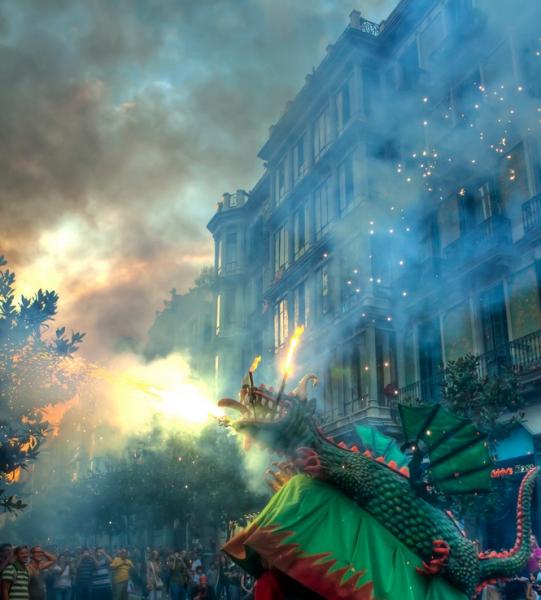 Even for a big town, Barcelona has more than its share of events. The show-off city has something to show you throughout the year. There's a full calendar of exceptional music and arts festivals for every taste, from medieval music in real medieval churches to avant-garde expos that attract cutting-edge artists from around the world. Tickets for most events are sold in the offices of the Palau de la Virreina on the Rambla, which also has Last Minute a Tiquet Rambles offering half price tickets on the day of the performance, available three hours before the start of the show.
The other side of the coin is the remarkable religious and neighbourhood festivals, steeped in Catalan tradition. These events, especially the festes majors, are occasions for a very outlandish complex of Catalan folklore and folk music. In the daytime you'll find processions of gegants (tall figures of wood and papier-mâché, supported by men under the skirts) and capgrossos (demonically grinning 'fatheads', made of the same materials), Catalans stacked eight or nine levels high, called Castellers.
At night, the big event is the correfoc, or 'fire-running', when terrifying dragons (made up of teams under canvas and wood) spit fireworks into the crowds, chased by devils brandishing fireworks—slightly dangerous, but here EU safety rules just don't apply. Bundle up and wear a hood to keep from being singed by flying sparks.
January
New Year, 1 Jan: The new year is brought in with big public parties and the custom of gulping down a grape for each bell chime at midnight, for luck.
Three Kings, 5 Jan: The Three Kings arrive in Barcelona by sea and join a parade around the city, hurling sweets to the children as they go.
Festa Major Sant Antoni, 17 Jan: Procession down the Ramblas, gegants and castellers, and the blessing of the pets (bring yours!).
February
La Laia, second week: the Festa de Sant Eulàlia, Barcelona's first patron saint. Parades and organized events. All the folklore, theatre and puppet shows for the children.
Carnaval: Barcelona has an opening parade, floats and fireworks. Banned under Franco.
Festival of the Guitar, Feb-Jun: Classical, jazz and everything else guitar.
March
Festa de San Medir, 3rd March: horsemen dispense tons of sweets as they parade through Gràcia.
April
Festival de la Música Antigua, mid April-mid May: A chance to hear medieval and Baroque music in some beautiful locations, such as the Palau Reial.
Festival of Sant Jordi, 23 April: The Ramblas are covered in flowers; women and men present each other with books and roses.
Feria de Abril, late April-early May: Barcelona's Andalucians come out for ten days of flamenco and parties.
May
Festa de Sant Ponç, 11 May: A street fair on C/ Hospital, held in honour of the patron saint of bee-keepers and herbalists.
Primavera Sound Festival, May-June: big rock-indie festival with dozens of concerts, many held in the Parc del Forum.
Loop Festival, mid-month: Big video art fair, with 800 artists invited
MECAL, June-Sept: Barcelona International Short Film Festival, with showings mostly in the Poble Espanyol
Saló del Cómic, mid-month: International Comics Fair at the Fira de Barcelona
Festival Ciutat Flamenco, late May. Some of the top flamenco artists, performing at the Mercat de les Flors.
June
Trobada Castellera: A grand meeting of Catalan casteller groups; Plaça Sant Jaume.
Sónar, mid-month: Three-day International Festival of Advanced Music, ending in a massive rave.
Festival Jardins de Peralbes, mid June-early July. Big name concerts in the Palau Reial gardens
Festa de la Música, 21 June: Free concerts around the city.
Gay Pride Festival, second half: A big parade for the grand finale
Sant Joan/Nit del Foc, 23 June: Equinoctial 'Night of Fire', the maddest night of the year in Catalonia. A few small bonfires are tolerated in the city, but nonstop fireworks shake Barcelona all night as everyone downs cava and sweet cakes (cocas de Sant Joan). Wild partying on the beaches, followed by a public holiday.
Corpus Christi, last week: Big folklore event with a parade and the 'Ou com Balla', 'dancing eggs', in fountains around Barri Gòtic. Also a festival in Sitges.
July
Festival Grec: Barcelona's biggest culturefest: theatre, music and dance in the Teatre Grec on Montjuïc and in other venues around town.
Sala Montjuïc: Open air film festival on Mondays, Wednesdays, and Fridays at the castle; ends the first week in August.
Montjuïc de Nit, first week: one-night free cultural festival on Montjuïc.
August
Gandules ('deck chairs'), all month: Open-air festival of films from around the world, organized by CCCB, the Centre de Cultura Contemporània de Barcelona
Festa Major de Gràcia, mid-month: A giant party, with wonderful street decorations; The Festa Major de Sants follows on its heels.
Festa Major de Sitges, third week
Dansalona, mid Aug-mid Sept: a month of dance of all kinds, in venues great and small.
September
Diada Nacional, 11 Sept: Catalan National Day.
Festa Major de La Mercé, four days around 24 Sept: Barcelona's big, week-long festa major, with all the ingredients on a huge scale; also concerts (including the BAM alternative music festival), unchained folklore, street performances, fireworks, extraordinary sound and lights and races, culminating in a frenzied correfoc.
October
Sitges Film Festival, second week: One of the big international festivals, specializing in fantasy and horror films.
48hr Open House Barcelona, third week: a two-day chance to get into buildings and monuments normally closed to the public.
November
Barcelona Jazz Festival, all month: some seventy concerts, with many big names in attendance
December
Fira de Santa Llúcia, 8–24 Dec:The big Christmas market in front of the Cathedral, with a great choice of caganers.