Ricardo Bofill
Barcelona's Post-Modern Starchitect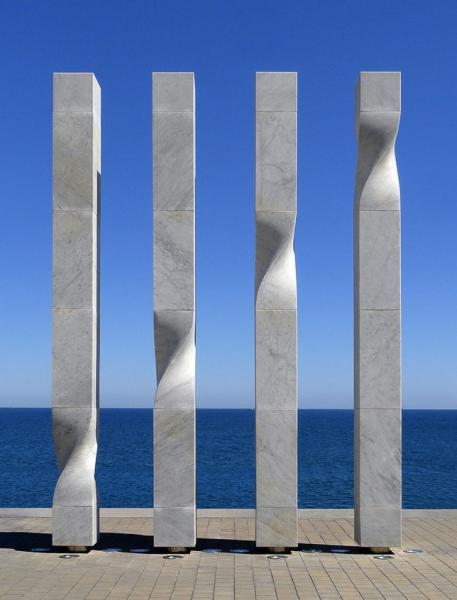 Born in Barcelona in 1939, Ricardo Bofill Levi is the city's best known late 20th/21st-century architect. He grew up in a liberal well-to-do household; his father was a developer and like many Catalans, an ardent anti-Franco-ist.
Bofill attended the Barcelona School of Architecture but after joining a student protest against the regime, was expelled from the university, but continued his education a architectural school in Geneva. In 1963 he returned to Barcelona and joined his father's firm, and with a group of friends (architects, engineers, planners, sociologist, writers, musicians, movie makers and philosophers) founded an architectural and urban design firm Ricardo Bofill Taller de Arquitectura.
One of the group's first major projects was the 1972 Walden 7 subsidized workers' housing project in the industrial suburb of Sant Just Desvern, just past Barcelona airport. Bofill named it after B.F. Skinner's Utopian science fiction novel Walden Two, subscriing to the then popular leftist theory that architecture had the power to socially condition the people living in it.
Walden 7 has 446 residences in modular form, ranging from single module studios to four-module apartments, in 18 towers built in a curve to create a vertical labyrinth with a series of interlinked courtyards. Heralded, when it opened its doors its first resident in 1975, as the first architectural blow for the future in a new post-Franco Barcelona. It even looked properly Catalan, covered with tiles.
According to Robert Hughes, its new residents loathed it; the flats were small, roofs leaked, utilities malfunctioned. It was long before the tiles on the façade began to fall off, threatening to hit people in the head. Nets were built to catch them; in 1995, the tiles were stripped off and the buildings were painted.
Architects can't always hit home runs. Not long afterwards, Bofill did in his spectacular conversion of an abandoned cement factory near Walden 7 into La Fábrica, the headquarters of the Taller de Arquitecture and winner of the Ciudad de Barcelona prize of architecture in 1980.
Many of Ricardo Bofill's commissions have been in France, including two massive, some might say, megalomaniac, housing projects in France, Antigone in Montpellier and Les Echelles Baroque, in Noisy-le-Grand just outside Paris, are completely different, in exaggerated Neoclassical forms. The latter is so uncanny and other worldly that two films, Brazil (1984) and The Hunger Games: Mockingjay (2015) were filmed there.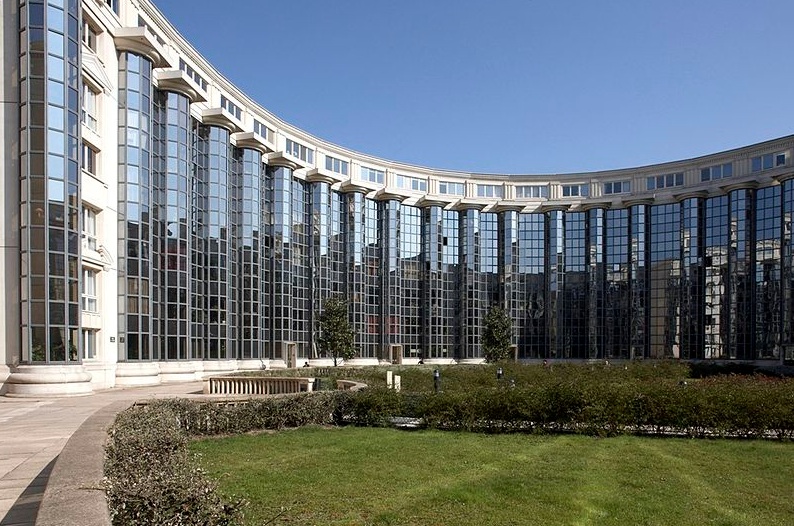 In Barcelona, he designed the neo-Neoclassical National Institute of Physical Education (1992) up in the Anella Olímpica, and the Greek-temple inspired National Theatre Of Catalonia (1997), as well as Barcelona's airport south terminal.
His most recent building in his hometown, however, forsook his mock Neoclassical style: the blue, sail-shaped luxury hotel W Barcelona, spectacularly surrounded by the sea at the very tip of Barceloneta, has become one of the city's newest icons. Near the hotel is his sculpture Les quatre barres de la senyera catalana based on the four bars of the Catalan flag. Bofill has also designed the headquarters of the Barcelona-based Desigual Company nearby, although it has yet to be built.