José Carreras
The Tenor from Barcelona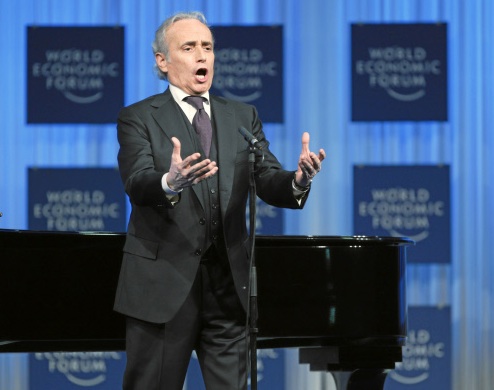 José Carreras was born Josep Maria Carreras i Coll in the working class district of Sants in 1946, the third child of a struggling family; his father, a French teacher, had fought against Franco and afterwards was barred from teaching, so had to work as a traffic cop; his mother worked in a beauty salon. They who immigrated to Argentina in 1951 in search of a better life, but soon returned to Barcelona.
At age 6, after watching Mario Lanza in The Great Caruso, little Josep (because he began his career under Franco, he was compelled to take the Castilian form, José, on stage) couldn't stop singing to the point of driving his family crazy. He took piano and voice lessons from a friend of his mother's, and would sing for the ladies in her salon; he made his stage début at age 8, singing La Donna è mobile for national Spanish radio when he was still a boy soprano. At the same time, he began to take lessons at the Barcelona conservatory. His mother always believed he would be great, but died of cancer when he was 18.
His father, however, thought he should have a career back-up, and he managed to do two years of chemistry at university before he gave up and went into music full time. His big break came in 1970 when Montserrat Caballé heard him sing a minor role in the Liceu and asked if you could frequently performed with him in operas and recitals.
His career went from strength to strength. By his late 20s he had performed many of the classic lyric tenor roles in Europe and the USA, his voice noted for its beauty and mellowness, rich timbre and expressive phrasing, although one not always comfortable with high notes. He became something of a specialist in Verdi, performing and recording even some of the less known works, but was also known for his roles in Carmen and the operas of Donizetti.
In 1987, after recovering against the odds from acute lymphoblastic leukaemia (he was given only one in ten chance of survival), he set up the José Carreras International Leukaemia Foundation, and every year performs charity concerts to raise money for research grants and to maintain Spain's bone marrow register.
During his illness, his friends Luciano Pavarotti and Placido Domingo were a huge support, and in 1990, after the World Cup in Italy, they put on the first Three Tenors concert in the Baths of Caracalla to raise money for his foundation. In It was a huge success, that was repeated on numerous occasions until Pavarotti died in 2007, and helped make all three into household names around the world.
Suave, calm and sophisticated and a true Catalan he confessed in an interview the only thing that makes him shout is FC Barcelona. He 'retired' from opera in 2004, concentrating on concerts and recitals (performing at least 20 a year as benefits for his foundation), but then returned in 2014, and is still going strong.