Santa Maria della Vita
The 'Scream in Stone'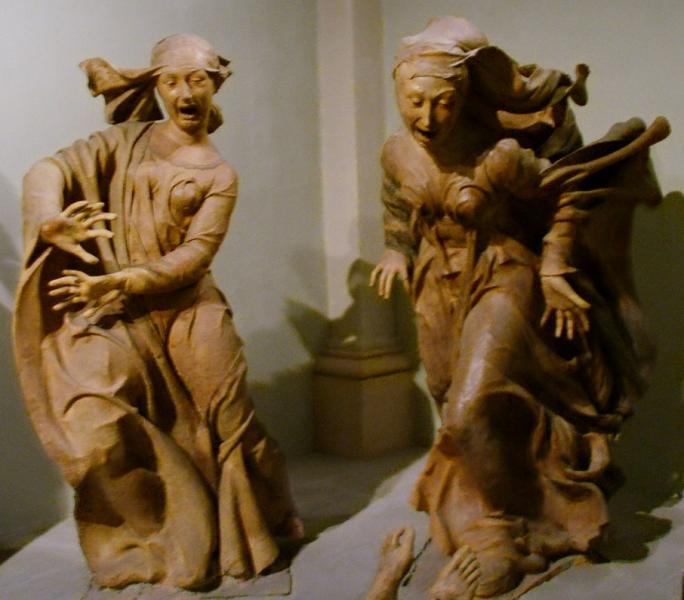 Back in the 11th century, Pier Damiani, a Doctor of the Church, wrote a treatise called De laude flagellorum (In praise of flagellation), establishing the concept that participating in Christ's sufferings promised a share of his glory in paradise. Both founders of the great 13th century preaching orders, SS. Francis and Dominic, were keen practitioners, Francis wanting to keep 'Brother Donkey' (the body) in line; Dominic went a step further: 'three times every night he would 'whip himself with an iron chain: once for himself, once for the sinners in the world, and one for the sinners who are suffering in purgatory.'
In Italy, in particular, a number of aesthetic minded penitential brotherhoods known as battuti sprung up. Santa Maria della Vita was built in 1260 by Riniero Barcobini Fasani of Perugia, the founder of one of these, the Confraternità dei Battuti Bianchi (the 'Brotherhood of the White-robed Whipped Ones'). Next to the church, the brotherhood set up a hospital, the Ospedale della Vita e della Morte ('of life and death', not really a name to boost the confidence of patients) to treat the poor and shelter passing pilgrims.
After the church collapsed in 1686, the Sanctuary of Santa Maria della Vita was rebuilt from scratch with all the Baroque trimmings; in 1754 it was crowned with an impressive dome by Antonio Bibiena that was frescoed by Gaetano Gandolfi. When Napoleon arrived a few decades later, he confiscated the lot.
The church houses perhaps the greatest of all the region's Renaissance terracotta groups, the Compianto sul Cristo Morto (Lament Over the Dead Christ) by Nicolò dell'Arca. Commissioned by the Confraternity in 1463, with figures of the dead Christ, the Virgin, the Three Marys, St John the Evangelist and Joseph of Arimathea, this is a work harrowing in its grief and terror, a 15th-century version of Edvard Munch's The Scream, or 'l'urlo in pietra' as Gabriele d'Annunzio called it.
A trecento fresco of the Madonna Enthroned by Simone de' Crocefissi was rescued from the collapsed church. And during the Christmas season, the Sanctuary displays Santa Maria's historic presepe (Christmas crib).
There's more. The adjacent Oratorio, designed by Floriano Ambrosini in the early 1600s, is dedicated to the Virgin and the Blessed Riniero, whose life is depicted in the canvases around the altar (some of the gilded putti in the decor grip little whips). The Oratory houses another slightly larger than life-size terracotta tableau, with 15 figures (including an angel suspended from the ceiling) of the Transito del Vergine (Dormition of the Virgin) (1522) by Alfonso Lombardi.
The former hospital houses the Museo della Sanità or Museum of Health, with pharmaceutical jars, silver chalices, furniture and other items relating to the history of the Confraternity.
Via Clavature 8-10
Hours Sanctuary, Museum and Oratory: Tue-Sun 10am-7 pm. The Compianto 10.30am-6.30pm.
Adm €3, under 5s free
+39 051 230260