Museo Civico Archeologico
Egyptians, Etruscans, Gauls and Romans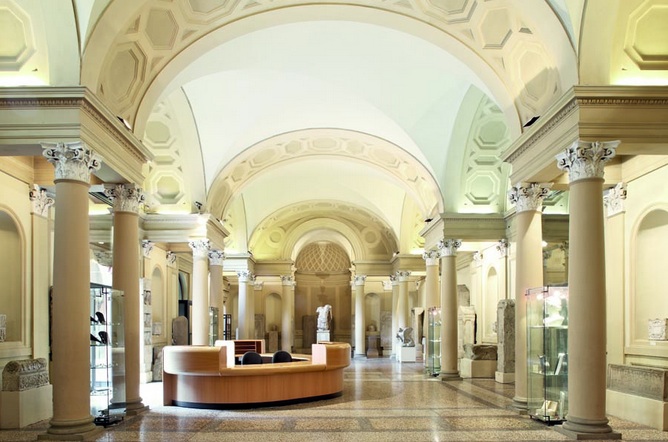 Next to the Palazzo dei Banchi, facing the great, gloomy wall of San Petronio, is Bologna's excellent Museo Civico Archeologico, occupying the building of an old hospital on Via dell'Archiginnasio with the reassuring name of Ospedale della Morte. It's crammed full with one of Italy's best collections of antiquities – beautifully wrought items from the Iron Age Villanova culture, finely wrought urns and jewellery that clearly show these people as the precursors of the Etruscans.
These are followed by artefacts from Etruscan Velzna (the Etruscan name of Bologna, latinized as Felsina). Velzna may have been a frontier town, compared with the wealthy and cultivated Etruscan metropolises of Tuscany and northern Lazio, but it is richly represented here with funerary art. This includes a collection of spectacular circular tombstones, a form found nowhere else in the Etruscan world, carved with proud warriors or ships; some are more than 10ft in diameter. There is a famous embossed bronze urn, the Situla di Certosa, similar to others found in Tuscany. Many of the best pieces are housed in Room X, which has kept its original 19th-century character, complete with its colourful Etruscan style frescoes.
The Etruscans of Bologna traded through their Adriatic port of Spina (near Comacchio) with the Greeks, whose Attic vases are one of the highlights of the museum. There are a few items from Gallic Bononia, Roman artefacts (a lovely copy of Phidias's bust of Athena Lemnia), and the third most important Egyptian collection in Italy, much of it gathered by the indefatigable Pelagio Palagi and donated to city of Bologna.
Via dell'Archiginnasio 2
Hours Tues–Fri 9am–3pm, Sat, Sun and hols 10am–6.30pm
Adm €5, €3 ages 18-25, over 65. Under 18 free; also free first Sunday of the month.
+39 051 2757211