San Francesco
Serene Gothic Beauty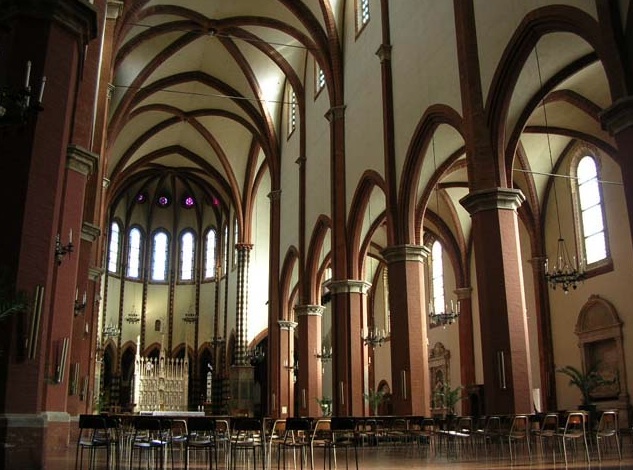 St Francis, coming one day to the city of Bologna, all the inhabitants went out to meet him, and the crowd was so great that it was with much difficulty he made his way to the market−place, which was filled with men, women, and scholars. And St Francis, on arriving there, stood upon an elevated spot, and began to preach that which the Holy Spirit put into his mind to say; and he preached so wonderfully that he appeared to be an angel, not a man; and his words were like sharp arrows, which pierced through the hearts of those who listened to them. The Little Flowers of St Francis, XXVII
Lovely Gothic San Francesco was begun in 1236 when St Francis was still alive. Bologna provided one of the fastest-growing and keenest centres of the new order; by 1211, Bernardo di Quintavalle, Francis's first follower, had set up a modest convent called Santa Maria delle Pugliole. When Francis himself visited in 1222, interest soared. Pope Gregory IX himself gave his approval for a new more monumental complex for the growing order of Friars Minor.
Built of brick, the church, consecrated in 1251 by Pope Innocent IV, was partially inspired by the Gothic cathedrals of northern France, supported by massive flying buttresses (a feature rare in Italian churches). The façade, a lofty screen front typical of Emilia Romagna's plains, was completely rebuilt four years after it was blown clean off the church by Allied bombers in 1944. It faces quiet Piazza San Francesco, where the neighbourhood kids often play football in the afternoon.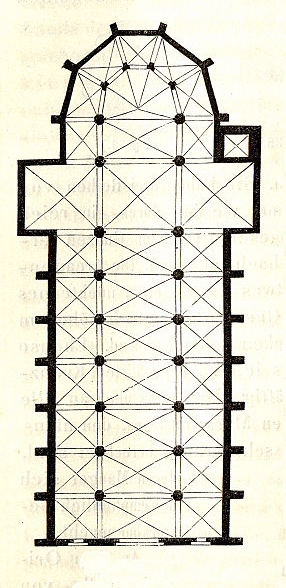 Inside, the striking, lofty interior is calm and elegant, all white contrasted with dark brick piers and vaulting, a style that would characterize Bologna's churches for the next century or two, culminating in Antonio di Vincenzo's San Petronio.
It was much busier and artier inside, originally; in 1796 Napoleon turned the church into a barracks and it later served as a warehouse, before being returned to the Franciscans in 1886 and then restored by Alfonso Rubbiani. Several Renaissance-era tombs have survived, including the Tomb of Pope Alexander IV (who died in Bologna in 1410), the work of Nicolò Lamberti of Tuscany.
On the high altar the beautiful marble ancona (1393) was sculpted by Jacobello and Pier Paolo dalle Masegne , with various saints (including eight busts bizarrely impaled on pinnacles) and wonderfully naturalistic scenes from the life of St Francis. The Chiostro dei Morti ('Cloister of the Dead') is lined with tombs of 14th-century university dons.
Around the back of the church on Piazza Malpighi, you can get a look at the great apse with its flying buttresses, along with the very elegant campanile added in the 1390s by Antonio di Vincenzo.
The Tombs of the Glossatori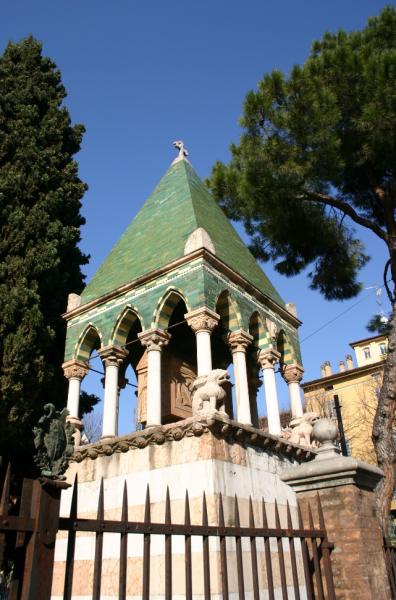 Facing the street behind the apse are four unique monuments, little pavilions with pyramidal roofs, raised off the ground on slender columns. These are the memorials to four notable professors of law of the 13th century: Accursio and his son Francesco Accursio, Odofredo Denario and Rolandino de'Romanzi.
They owe their current state to Alfonso Rubbiani: finding the fragments of the tombs inside the basilica during his restoration, he decided to restore and erect them outside of the church (similar to Verona's Scaliger Tombs), in the style of the Mausoleum of Halicarnassus, to make these founders of the University of Bologna into public theatre and a focal point of civic pride.
Piazza Malpighi 9
Hours daily 6.30am–12noon and 3–7pm
+39 051 221762