San Pietro
Bologna's Half-Forgotten Cathedral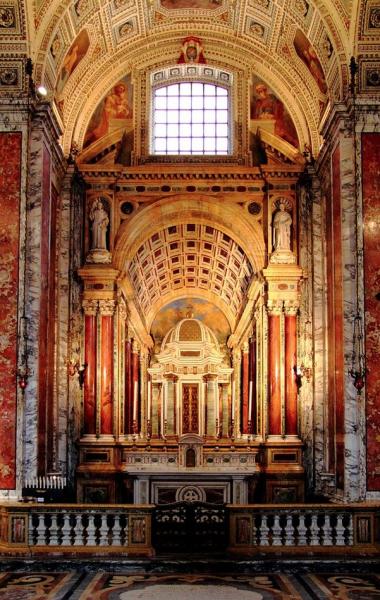 Founded in the 6th century, rebuilt in the 10th century and consecrated in 1184, and frescoed in the Renaissance by Francesco del Cossa and Ercole de' Roberto, Bologna's Cattedrale di San Pietro should be more interesting than it is. But as it was being enlarged in the late 16th century, the vaults collapsed; only fragments of the frescoes that inspired young Michelangelo survive in the Pinacoteca. Afterwards, nearly every trace of previous building was eliminated as it was rebuilt by Giovanni Ambrogio Mazenta in a showy Baroque style, with a facade added in 1747.
It was never a favourite of the locals. Like Venice's former cathedral (another San Pietro) this church represented Rome's authority, as opposed to that of the municipality, embodied in the basilica of the city's patron saint—St Mark in Venice, and St Petronius in Bologna.
Inside are red marble lions from the portal of the original façade, and, in the first chapel on the right, a dramatic, terracotta Lamentation of Christ by Alfonso Lombardi(1522).
In the side chapels, look out for Donato Creti's Pala of Saint Ignatius of Loyola in the ornate third chapel on the left, and a Sacred Family with SS Rocco and James the Greater by Marcantonio Franceschini in the fourth chapel on the right.
In the Sanctuary, don't miss the striking 12th-century polychrome Crucifixion in cedar wood, with a solemn crowned figure of Christ and two pillar- like figures of the Virgin and St John. Bartolomeo Cesi's paintings in the choir are among his last works; hovering over the ornate Cappella Maggiore is the Eternal Father (1579) by Prospero Fontana; also see the Annunciation, the last painting (1619) by Ludovico Carracci.
The slightly leaning Romanesque campanile, the second tallest tower in Bologna is a survivor of the original structure, and is famous for its massive 3330kg bell, nicknamed La Nonna ('Grandma'), which is hand rung in a circle 'Bolognese style' with three other massive bells (Bologna and Rome used to compete on their bells and ringing techniques). On Saturday afternoons you can climb up for the spectacular view over Bologna.
Stroll past the campanile down Via Altabella and its adjacent lanes (especially Via Sant'Alo and Via Albiroli) for a look at medieval Bologna, with several medieval towers and houses dating from the 13th to the 16th centuries.
Via Indipendenza 7
Hours 7.30am-6.45pm. The Campanile and Cathedral Treasure: Sat 2-4.30pm (adm €5). The Crypt and Archaeological Area: Mon, Wed, Fri and Sat 2-6pm.
+39 051 222112