Museo Internazionale della Musica
A Rare Treat for Musicians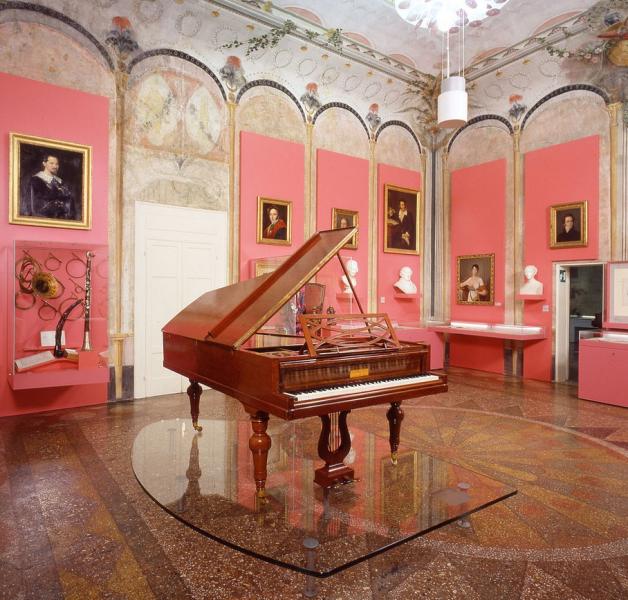 The 16th-century Palazzo Sanguinetti was remodelled in the early 19th century, and after 1832, owned by the great tenor Domenico Donzelli. The composer Gioachino Rossini, whose Bologna residence was a few doors down, would often drop by. In 1986, the palace's last owner Eleanora Sanguinetti donated it to the city, suggesting that in honour of her music-loving father that it become a museum and library of music.
Many of its contents come from the renowned music theorist Father Giovanni Battista Martini, who taught counterpoint to the 14-year old Mozart. The museum houses his massive collection of early print music from the 16th-18th centuries, codices, 11,000 opera libretti and letters to and from composers and musicians, forming one of the top collections of its kind in Europe. Thanks to the nous of Martini's successor, Stanislao Mattei, the collection escaped the greedy clutches of Napoleonic expropriators.
Padre Martini also commissioned and collected the hundreds of portraits of musicians, not all by great artists that line the walls. Back in the day having a portrait in his collection was, according to James Reel, the 'equivalent to a modern Hollywood celebrity having "arrived" by getting a set of footprints onto the Walk of Fame'.
Many of the instruments (a clavichord made for Camillo Gonzaga in 1606 and Rossini's Pleyel and a rare Heckelphon) come from Bologna's former Liceo Musicale, now the Conservatorio GB Martini ; others were purchased during the city's International Music Exhibition of 1888. On the ground floor the Laboratorio di Liuteria is the workshop of Otello Bignami, one of Bologna's top violin makers, donated to the city by his children after his death in 1989.
Strada Maggiore 34
Hours Tues-Fri 9.30am-4pm, Sat, Sun and hols 10am-6.30pm
Adm €5; €3 ages 18-25 and over 65; under 18 free
+39 051 2757711