San Giovanni in Monte
One of Bologna's Oldest Churches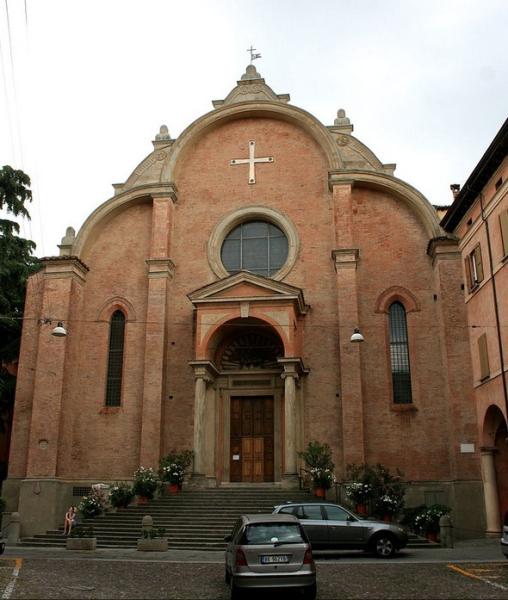 St Petronius himself founded this church in 433 and called it Monte Oliveto. Originally it was round, and as full of Holy Land symbolism as his Santo Stefano. One of Bologna's most prestigious, it changed its dedication to St John the Evangelist and then in the 11th century became the church of the Augustinian Canons Regular of the Lateran, who built rebuilt it in a more traditional Latin cross and later added a beautiful lobed Renaissance façade, reminiscent of the marble-faced churches of Venice, only here done in rose-tinted brick. It boasts one of the tallest bell towers in Bologna.
The church was full of art that was stripped away by Napoleon but eventually returned, although some of the best bits were relocated in museums, including the famous Ecstasy of St Cecilia by Raphael and Perugino's Madonna and Saints, now both in the Pinacoteca. In the early 19th century the floor began to collapse, so all the old tombs were moved; during the Second World War the church was gravely damaged in an aerial bombardment, and was restored by 1950.
The entrance is guarded by St John's eagle symbol, by Niccolò dell'Arca. Luckily the fine 16th-century century stained glass windows survived the bombing, including one of St John on Patmos in front of San Giovanni that was designed by Francesco del Cossa; others around the church are by Lorenzo Costa.
Octagonal brick columns frescoed with Augustinian saints frame the altar. A 16th-century wooden sculpture of Christ, the Man of Sorrows stands before the unusual pre-Romanesque altar of St Petronius, with an inverted column and Greek cross. Behind are carved choir stalls by Paolo Sacco of Cremona from 1523, and Lorenzo Costa's Crowning of the Madonna with a strikingly realistic Crucifixion (1346) by Jacopino da Bologna.
Also around the church are frescoes by Giovanni da Modena, and paintings by Pietro Faccini, Bartolomeo Cesi and Alessandro Tiarini, and a St Francis by Guercino among others, along with a copy of the Ecstasy of Santa Cecilia. Note the curious Crucifixion hanging over the side entrance: the figure of Christ seems to be waving good bye.
The former monastery of the Canonici Lateranensi with its beautiful cloister and refectory frescoes by Bartolomeo Cesi was recently explored by medieval archaeologists and restored, and is now the seat of the University's Department of History, Culture and Civilization.
Piazza San Giovanni in Monte
Hours 7.30am-12noon and 4-7pm
+39 051 263894