Sala Bolognese
With a Lombard Romanesque Church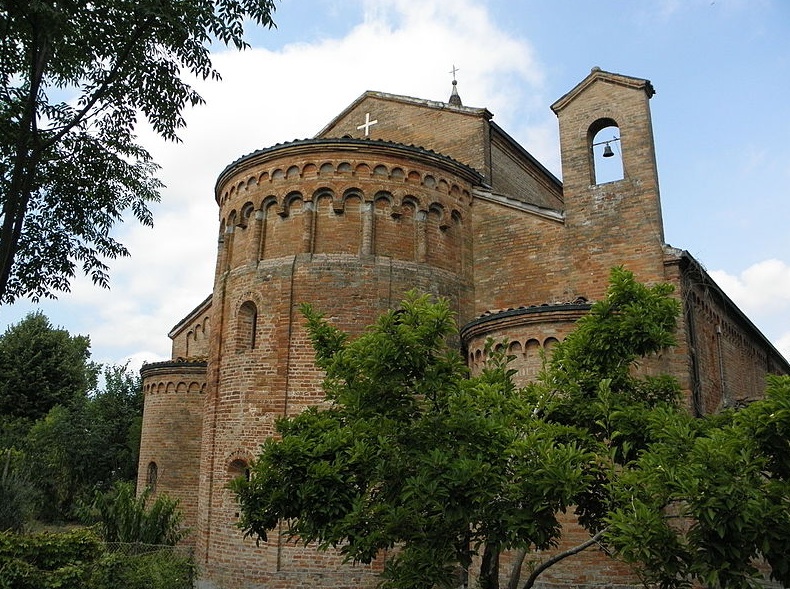 Tiny Sala Bolognese, just to the east of San Giovanni in Persiceto, has an 11th-century church, the red brick Pieve di Santa Maria Annunziata e San Biagio, a rare example of the Lombard Romanesque on the Emilian plain.
Built over a 4th-century church, which itself stood on a pagan temple, the church is typical of the Lombard style, blind arcades and arches adorn the façade and central apse; a Byzantine capital with a cubic capital divides a twin light window over the door. A Lombard-style campanile was added in the major 1926 restoration and given a fine nubby, pigeon-proof roof, with a chapel honouring the locals who died in the First and Second World Wars.
The interior, laid out as a basilica, has three naves divided by simple selenite columns. Near the door is an ancient immersion font in red marble from Verona. In the sanctuary it holds a fascinating relic from its pagan predecessor: an altar carved with a divinity sporting ram horns, identified as either Jupiter Ammon or the Celtic deity Kerunnos, recycled from a pagan temple and Christianized with a cross. There's a 15th-century fresco of the Annunciation, and on the parapet, a Swabian Imperial eagle. The evocative crypt beneath the altar retains elements from the 4th-century church.
Via Gramsci 51, Sala Bolognese ( Take the frequent S3 Suburban line from Bologna Centrale Station to Osteria Nuovo and walk 3km to Sala Bolognese)
Hours Closed for restoration at the time of writing; for information, ring +39 051 828514