Museo per la Memoria di Ustica
A Memorial for a Mysterious Crash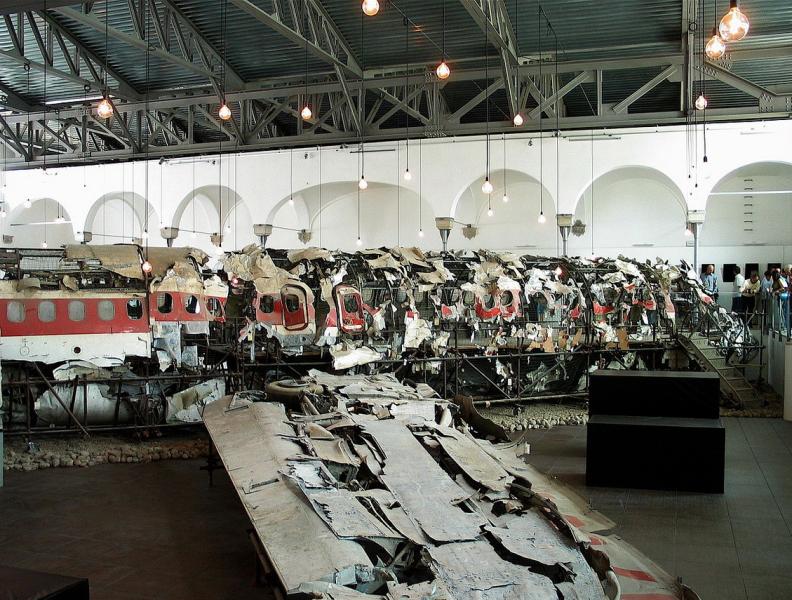 On 27 June, 1980, a DC9 passenger jet, Itavia Flight 870 flying from Bologna to Palermo crashed into the Tyrrhenian sea north of Palermo near the island of Ustica, killing all 81 people on board. Exactly what happened is one of the great mysteries of aviation.
Although at first structural failure was reported to be the cause of the accident, it wasn't long before radar reports were published, showing intense military activity in the area. In 1989 it was announced that the flight had been shot down: but by who? Was it accidentally shot down in a dog fight between NATO, US or the French Air Force and the Libyan Air Force? Muammar al-Gaddafi was known to be flying in the area: was it an assassination attempt gone horribly wrong?
But it proved impossible to find out more. Frustrated families of the victims have nicknamed the responses from the government il muro di gomma ("the rubber wall'). It was used as the title of a film about the crash made in 1991.
In 1994, a joint British and Italian investigation led by A. Frank Taylor claimed that the physical evidence showed that the disaster was caused by a terrorist bomb placed in one of the rear toilets. But Italy's High Court dismissed their report, and in 1999 Judge Rosario Priore, an expert on terrorism cases, concluded that the plane had probably been caught in a dogfight between NATO jets and Libyan MiGs. Four Italian air force generals and five others involved in the secret service were accused of high treason for obstructing justice and covering up evidence. The wheels of justice in Italy grind exceedingly slowly, and the cases eventually collapsed in 2007.
In 2011, the Palermo court concluded that the Italian government had failed to protect the passengers and had hidden evidence, and ordered it to pay compensation to the relatives. In 2015, the decision was confirmed in the court of appeals.
The pieced-together wreckage of Flight 870 was brought to Bologna, to be the centrepiece of this museum memorial, which opened on the anniversary of the tragedy, on 27 June, 2007. MAMbo commissioned the surrounding installation by Christian Boltanski, featuring 81 black mirrors, lamps and speakers, each representing one of the victims.
Via di Saliceto, 3/22
Hours Thurs & Fri 9am-1pm, Sat & Sun 10am-6.30pm Adm Free
+39 051 377680