Antonio di Vincenzo
Architect of San Petronio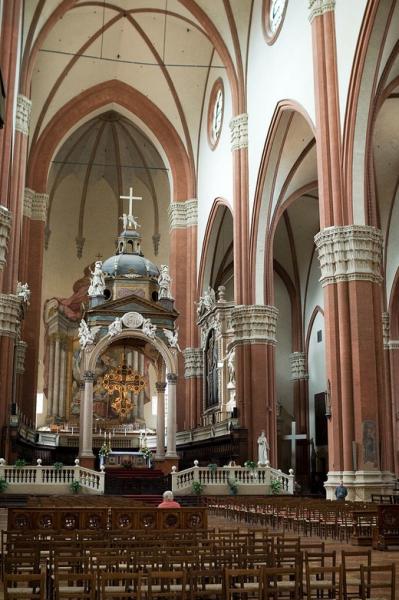 Antonio di Vincenzo (c.1350-1401) was definitely the man in the right place at the right time. Whether he was the right man is open to debate. Little of Antonio's early career is known, but in the 1380s and 90's, when Bologna commenced its massive building programme around the Piazza Maggiore, he seems to have been in charge of nearly everything.
Antonio is of course best known for the colossal, ungainly San Petronio. Beforehand, he visited Milan to see the great cathedral under construction there, and made some of the first practical architectural drawings of it to serve as a guide. Upon returning to Bologna he created a 15-metre model of the projected work, as the city fathers had requested. When the architect died in 1401, construction on San Petronio had scarcely begun, and it is impossible to know just how faithfully the building reflects his original intentions. We can probably give him credit for the bright, airy nave, one of the real successes of Bolognese architecture.
Antonio also designed the graceful campanile of San Francesco, a work reminiscent of Giotto's recently-completed campanile at Florence. He is recorded as working on Santa Maria dei Servi, the Loggia della Mercanzia and the Palazzo dei Notai on Piazza Maggiore, and the Sala dei Tre Cento in the Palazzo Re Enzo.
Everything about Antonio's brick-Gothic Bologna works seems oddly spare and minimalist, very much in contrast to the contemporary cathedrals and public buildings of Bologna's neighbours and rivals, Milan and Florence. We may never know if it was a personal preference, the style required by his patrons, or simply a result of his early death and the desperate finances of Bologna in the years that followed it.
Interestingly, Antonio was also a politician, and before he ever designed any known buildings he had been named to the posts of Prima Gonfaloniere del Popolo, and then Gonfaloniere di Giustizia. He was a military engineer too, and built some of the now-vanished bastions in the city walls.