Alfonso Rubbiani
Bologna's Viollet-le-Duc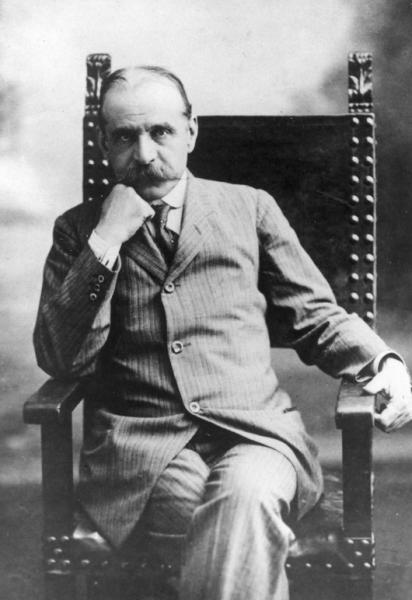 Most tourists, and even most Bolognesi, aren't aware that a surprising proportion of Bologna's medieval good looks are down to Alfonso Rubbiani (1848-1913), who like Viollet-le-Duc often restored buildings to what they should have looked like all along, but not always with historical accuracy, much to the dismay of modern, puritanical theories of restoration. But as Andrew M. Shanken wrote in his Preservation and Creation: Alfonso Rubbiani and Bologna (Future Anterior, 2010):
For him, the architectural heritage of his city was part of a usable past, a palette of ideas that one could assemble freely as part of the revival of a city that had emerged only recently from centuries of papal rule. Rubbiani played fast and loose with fragments of buildings, using literary sources to conjure up images of a historic center under assault by nineteenth-century urbanization. He envisioned creative restorations of key buildings in the city that would allow the spirit of medieval Bologna to re-emerge from centuries of what he considered unsympathetic renovations, hostile architectural movements, and neglect. If we are now inclined to see Rubbiani's approach as part of the European simulacrum that resulted from the "preservation" methods and theories of Ruskin, Viollet-le-Duc, and countless others, it is because we have not developed the historical sympathy to approach the work dispassionately.
Raised in a piously Catholic family in Bologna (they were involved in the creation of the Società della Gioventù Cattolica Italiana—now the Azione Cattolica—founded in Bologna in 1868), a journalist by trade, Rubbiani, like many in Bologna, adored the Middle Ages, the good old days when the city was an independent comune. He became interested in historical renovations during the restoration of the church of San Martino and was involved in the medievalizing and removing Baroque additions of the Castello dei Manzoli in Minerbio outside Bologna.
Rubbiani had a keen eye for the picturesque, and decried the shabby, tenement state into which the once great palazzi had fallen, as well as the shoddy Neoclassical 'improvements' inflicted on Bologna under Napoleonic rule. In 1898, inspired by William Morris and the Arts and Crafts movement in the UK, he founded Aemilia Ars, which made beautifully hand-crafted tiles, stone and terracotta work for his restoration project, but which didn't survive long after Rubbiani's death.
Rubbiani argued that by studying and adapting native design elements in the centro storico, one could take that aesthetic and apply it to historic buildings that had deteriorated over time, such as the Palazzo Re Enzo, which looked like this before Rubbiani took over:
On the same square he also restored the Palazzo dei Notai, the Palazzo d'Accursio and Palazzo della Mercanzia (he would have redone the Palazzo del Podestà, too, in 1910, but the city said no). His other projects included the Palazzo Sanuti Bevilacqua, San Francesco and its Tombs of the Glossatori. He fought to preserve the city's walls and gates and towers, and restored the base of the Torre Asinelli.