Musei del Duomo (Modena)
Naked Girls, Sphinxes and Dragons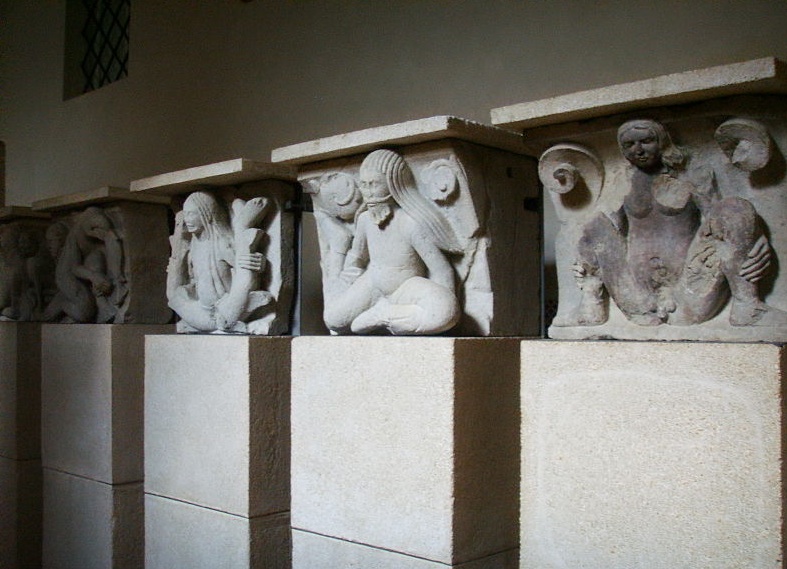 Modena's cathedral has two museums at the same address, renovated for the Jubilee in 2000.
The older Museo Lapidario houses one of Modena's treasures: the original eight metopes from the Duomo by the unknown 'Master of the Metopes', sculpted in the first decades of the 12th century but with an accuracy of proportions and brilliant stylization that look startlingly modern. Originally they decorated the eight buttresses of the nave, projecting just above the cornice, where no one could really see them. The Modenese thought them important enough to move out of the rain, and they have replaced them with copies. ('Metopes' is a misnomer; that term only applies to Greek and Roman art. There is really no word for these but just 'reliefs'.)
The metopes are masterpieces of elegance and mystery, dream-images in a medieval vocabulary utterly lost to us, but utterly fascinating. Are they just fantasy, or is there a hidden meaning? In order of their original placement we have, on the north side, from left to right:
A girl in an Eastern-style headdress and a long robe dreams while behind her a disembodied masculine arm is menacingly raised, clutching a scroll.
A man with long flowing hair, cornrows, handlebar moustache and full beard, who seems to be in a yoga position, flanked by bizarre symbols.
A sleeping girl, holding what may be a flower, with an ibis, or stork or pelican on her left and maybe a sphinx, with its head twisted upside down, on her right.
A forked-tail mermaid, with a face and hair reminiscent of an ancient Greek Medusa
And on the south side:
A pair of sitting girls face each other, one right-side up, with long braided hair and an eagle or falcon whispering in her ear, the other upside down. (The Museum calls the the 'Antipodes')
A hermaphrodite with proudly spread legs (like the mermaid).
A bird-headed man with one human foot and one bull's hoof, swallowing a fish. Behind him floats the head of a woman with closed eyes.
A naked girl affectionately holds a small dragon by the neck
Scholars have not been much help in interpreting medieval mysteries such as these. The fork-tailed mermaid is extremely common in churches of the era. Italy has the most, notably at Otranto cathedral in Puglia, where the mermaid sits enthroned next to King Solomon. Bird-headed men are among the fantastical creatures mentioned in medieval books; often they are said to live in India (like the mount of Vishnu, Garuda). As for the rest—not a clue!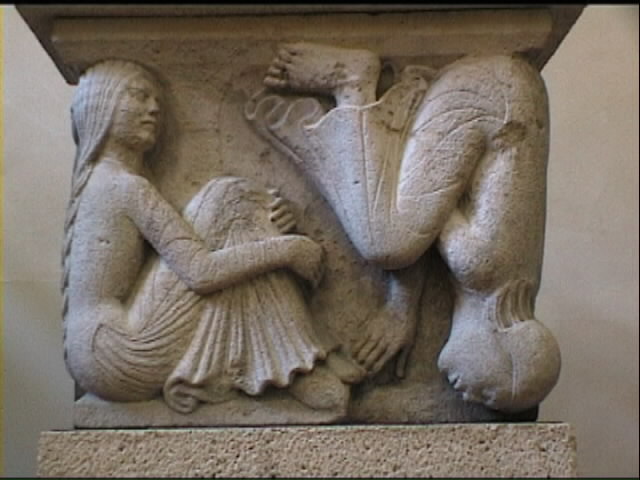 The Museo del Duomo contains a good deal of church clutter, much of it dedicated to patron saint San Geminiano, including a reliquary bust. The are tapestries made in Brussels on Stories from Genesis (1570) and others from the next century that were hung in the Duomo during Lent, along with a permanent display of medieval codices.