Via Emilia (Modena)
Main Street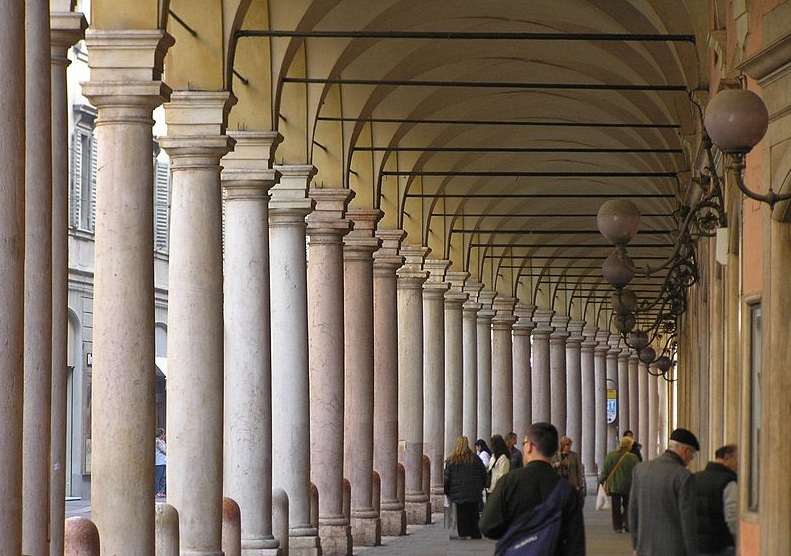 The Via Emilia, Modena's modest but refined main street, roughly follows the line of the Roman original. Coming from the east, it enters the centro storico at Largo Garibaldi/Largo Porta Bologna, passing the Teatro Storchi, Modena's impressive home for drama, and then the church of San Biagio.
Like Bologna, Modena is a city of porticos. The next landmark, on the south side of Via Emilia, is the gracefully curving Portico del Collegio di San Carlo, built in the late 17th century. After that comes Piazza Mazzini, the site of the Jewish ghetto, instituted by Francesco I in 1638 in a quarter where Jews had already lived since at least the 11th century. After Italian unification ghettos like this one were closed all over the nation. The shabbiest and most densely packed part was demolished and made into this square, and a big new synagogue was built on one side in 1873.
A little further down, Via Emilia opens into Piazza del Torre, behind the Duomo, This small space holds Modena's pride and symbol, the great medieval campanile called La Ghirlandina.
Heading into the west side, Via Emilia passes two important churches: the Chiesa del Voto, built to commemorate the great plague of 1630, and San Giovanni Battista. Between the two is Piazza Matteotti, one of the prettier corners of Modena with its plane trees and merry-go-round. The Fascists cleared this block and named the square after their African 'empire': Piazza Impero. After the war, like many squares in Italy it was renamed for a heroic journalist who had been murdered by the blackshirts in 1926, Giacomo Matteotti.
After these, this cultured city shows us a monument dedicated to a historian, the Enlightenment figure Ludovico Antonio Muratori. Muratori made important contributions to Italian and Biblical history, defended the Este dukes and spoke out for freedom of religious opinion on such a refined plane that even the popes had to be nice to him.
Via Emilia finishes with a flourish at Largo Porta Sant'Agostino, with the city's museum complex, the Palazzo dei Musei, which includes the great Galleria Estense and the glorious Baroque church of Sant'Agostino. Across the piazza, Modena's new cultural centre is currently taking shape, the Palazzo Sant'Agostino.